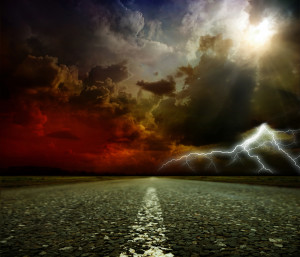 In countries across the north, June is a month to enjoy warmer weather as mid-summer's night approaches. In days gone by, young couples would plan to be married on mid-summer's in hope of extra blessing. But what happens when the season of perpetual sunshine that had been promised since the start of the last winter, doesn't materialise? Throughout June, I'll take you through the period of the Kings of Israel where the list of blessings that had been laid out in Deuteronomy 28, were short lived, and God's family seemed to enter into a seemingly never-ending tunnel of storm-filled events going from bad to worse.
What went wrong and can the Creator God still be trusted when there's no light at the end of the tunnel? I invite you now to use the drop-down menu below to click on today's date, then read my "thought for the day".
June 1st – Excavating Puzzle Pieces
June 2nd – Clues of Corruption
June 3rd – The Greatest Philanthropist
June 4th – The Book of LIFE
June 5th – How to Win Friends
June 6th – Anatomy of the Human Soul
June 7th – Establishment and Strength
June 8th – Cashing In a Blank Cheque
June 9th – Kabul "Good for Nothing"
June 10th – The Centre of Trade Agreements
June 11th – Destabilizing a Nation
June 12th – Leading with Logic
June 13th – Coping With Drought
June 14th – Identifying the Counterfeit
June 15th – Understanding Depression
June 16th – Failure: Doorway to Success
June 17th – Using Divine Power
June 18th – Liberation from Dissatisfaction
June 19th – Cashing In on Faith
June 20th – The Ever-Present God
June 21st – Define "Words of Knowledge"
June 22nd – What's "Omniscience"
June 23rd – Victim of Intimidation?
June 24th – Reward for Moral Courage
June 25th – Adding to Your Life
June 26th – Destroying a Nation
June 27th – Housebuilding DIY
June 28th – Leading By Example
June 29th – Next Generation's Legacy
June 30th – Party Planning