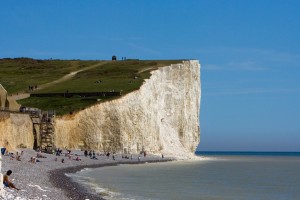 With summer in full bloom, August, for me, will always feel like a month with its door wide open. As the curtains at the window lift in the warm summer breeze now, a butterfly drifts into the room after alighting momentarily on a flowering shrub in the garden. As I watch it, I can't image how life could be anything but positive.
As August 2009 approached, our only son, Michael, was looking forward to the wide open spaces of God's Grace. He was to begin his first year at music school and, after working for a year to financially support that plan, the clock on his bedroom wall seemed to tick ever-closer to his future. Mike passed away on August 1st, 50 days in sight of his dream.
And so my Daily Breadcrumbs for August will cover the last books of the Old Testament…. Hope after the Storm. Hope in the things to come. One of the greatest promises of this period of the Creator's Epic Storyline came from a prophet who had been dragged to Egypt in chains! Read more?…  Just click on today's date (below) for my "thought for today".
August 1st – We're Still Standing!
August 2nd – The Secret of Wisdom
August 3rd – Pursuit of Happiness
August 4th – Increasing Your Visibility
August 5th – Nailing Down Wisdom
August 6th – Dedicated to Love
August 7th – Connecting with the Creator
August 8th – Where to Find Comfort
August 9th – Why Do People Suffer?
August 10th – Finance-Free Credit
August 11th – Light at the End of the Tunnel
August 12th – Describing Indescribable Grief
August 13th – LIFE Beyond the Grave
August 14th – Qualifications for Royal Service
August 15th – Who Gets the Credit?
August 16th – What's FAITH?
August 17th – Trusting an Independent Review
August 18th – How to Meet Your Maker
August 19th – From the Frying Pan into the Fire!
August 20th – Unconditional Love
August 21st – Predicting Volcanic Activity
August 22nd – Think Globally Act Locally
August 23rd – I Am Free!
August 24th – Running From God
August 25th – Faithfulness & Forgiveness
August 26th – Justice for Victims
August 27th – Fighting with Faith
August 28th – The Best Father in the World!
August 29th – The Fallout of Neglect
August 30th – Divine Intervention
August 31st – The Problem with Complacency