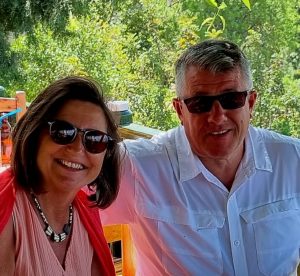 Mark (from England) and Kathy (from Australia) have been working with OM Ships International (OMSI) since 1979 and 1984 respectively. Mark is head of the Generosity Stream with OMSI, overseeing the financial development side.
After her finance work on board the OMSI ships, Kathy has been working with the International Finance for the charity since 2002. Now part time, she has time to pursue her writing; and since the death of their only son Michael, she has created this 'website for seekers' (still a working progress for those interested in asking questions about the Creator God); along with a small publishing mechanism for distributing her three books. To buy these books just click on the tab Look Up Books UK.
Their work relies on YOUR PRAYER. Please consider committing to praying for the Knights and receiving their bi-annual Newsletters. To sign up for receiving these, just write to breadcrumbslive@gmail.com  
They work is a support-based sponsorship system with OMSI, so they also welcome any FINANCIAL SPONSORSHIP that you can give. With offices in 110 countries, you can give anywhere in the world. The links below also direct you to various country sites for setting up donations. To help, Mark started his 30 Club. The idea is for people to sign up to invest into this work with £30, $30, or Eur30 each month for 30 months. If you would like to support Mark and Kathy with OMSI in this way – or with any amount and currency that you can – they will be grateful for anything you can give.
Click here if you're giving from within the UK
Click here if you're giving from within Australia
Click here if you're giving from within the USA
If you're anywhere else in the world, just write to breadcrumbslive@gmail.com and we can help you donate in your country of residence!