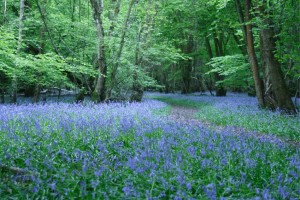 With Easter just around the corner in many countries, my 'thoughts for the day' take a leap from the Old Testament (the first ⅔ of the Bible) to the New Testament (the last ⅓ of the Bible). This, at first, may seem to be confusing. But I'd like to show you a parallel story. So, just as Israel was called from obscurity and slavery out of Egypt to become a royal priesthood and holy nation, a people belonging to the Creator God [Exodus 19:6], the New Testament shows us how the Creator God's promise to Abraham, "…through you, all nations on earth will be blessed…" [Genesis 18:18; 22:18 and 26:4] has now come true!
To understand how ancient history is now repeating itself in the private lives of individuals everywhere, just click on today's date to read the "thought for the day".
March 1st – Limiting the Transcendent
March 2nd – The Voice
March 3rd – Authorized to Act
March 4th – Unravelling History
March 5th – Peace and Quiet
March 6th – When DIY Goes Wrong
March 7th – Positive Quotes
March 8th – Meeting Planning
March 9th – Hot New Marketing
March 10th – The Red Carpet
March 11th – Writing Off Debt
March 12th – Gluten Free
March 13th – Employment Opportunity!
March 14th – Choosing Your Team
March 15th – Recognising Exquisite Pain
March 16th – Revealing Hidden Things
March 17th – Define "Transcendent Power"
March 18th – Beheaded for Believing
March 19th – The Problem with Religion
March 20th – Who's Jesus?
March 21st – What's a Transfiguration?
March 22nd – Tackling Street Violence
March 23rd – Coming to Our Senses
March 24th – Bridging the Gap
March 25th – The Black Swan
March 26th – What's in a Relationship?
March 27th – Assuming Authority
March 28th – The Greatest Story Ever Told
March 29th – Bringing Down the House!
March 30th – The Calm before the Storm
March 31st – The Price of Oil