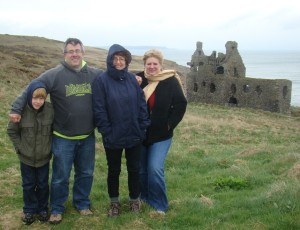 When Spring hasn't sprung, the season of April showers can be a real let down. So I wonder if the greatest disappointment from sudden life-change ever to be recorded, would be the catastrophic turn of events that happened in this month's Breadcrumbs. On Sunday, Jesus entered Jerusalem just as the ancient prophecies said their King would do, to great and resounding praise. But by Friday, He was dead!
To journey further with me into a 'life of faith' that seems littered with unanswered questions, and to see that the Creator God is not just aware of what's going on, but He's intimately involved, then use the menu below. Click on today's date and read my "thought for today".
April 1st – The Final Countdown
April 2nd – Time Travel
April 3rd – Coping with Sudden Change
April 4th – Addressing Hopelessness
April 5th – The Father's Grief
April 6th – Sharing Great News!
April 7th – A King Will Save Us
April 8th – How to Rise to Greatness
April 9th – The Price of Peace
April 10th – "Spiritual" Connection
April 11th – Who to Trust?
April 12th – Reincarnation vs New Birth
April 13th – The Fountain of Youth
April 14th – The Great Grave Robbery
April 15th – Cannibalism!
April 16th – The Season of Our Joy
April 17th – Who's Your Father?
April 18th – Proof and Validation
April 19th – How to Farm Sheep
April 20th – Resurrection of the Dead
April 21st – Who Has Believed?
April 22nd – What is True Love?
April 23rd – Famous Last Words
April 24th – The Great Vine
April 25th – Joy Follows Grief
April 26th – The Greatest Prayer Ever Prayed for You!
April 27th – 100% Confidence in a Bleak Present
April 28th – The Day God Kept Quiet
April 29th – The Greatest Day in History
April 30th – Fell Sheep in Cumbria