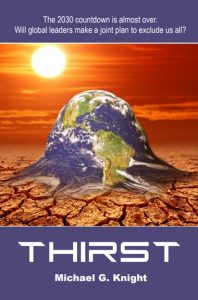 Title: THIRST
Published by: Look Up Books UK
Author: Michael G Knight
ISBN: 978-0-9927931-2-8
RRP Price: GBP£12.99
In response to an escalation in volatile water wars and the ominous UN predictions for our world's swiftly depleting freshwater reserves, Mike Knight, a journalist for a global news magazine in New York, is assigned to investigate the impact suffered then produce a news report to shock the world. Having embarked on a 'tour of the planet' with Dr Leena Nikula, a beautiful French-Russian with a double doctorate in geology and environmental science, Knight's scepticism turns to horror after sprawling cities are left abandoned when whole continents lose that one vital element needed for staying alive! However, while trying to expose the G20's ultimate conspiracy for the 21st Century, Knight unwittingly stumbles upon the greatest mystery of the 20th Century. Then, an unlikely 'saviour of the world' with a perfectly logical solution is found right at his fingertips. 
All profits after costs from this book, and any other production such as film and theatre, will go to the Michael G Knight Trust – MKT then distributed to existing freshwater projects in various countries in preparation through '7 years of plenty' before the international crisis in critical freshwater shortages, set to hit the highest populations from 2030 onward.
To pre-order your copy before JUNE 30th 2020 – ahead of the first print run – click "Ordering" to place your order. A GBP£17 payment, for example, will cover the book and international postage. HOWEVER a GBP£20 or more donation using the PayPal button below will cover the book, international postage to you, PLUS your MKT sponsorship towards global freshwater needs, beginning first with sponsoring freshwater filtration buckets, as part of the Help Ministry initiatives on board the Logos Hope: