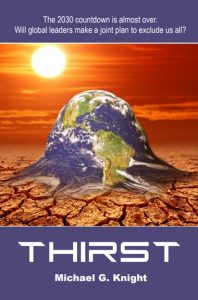 Title: THIRST – The 2030 Countdown is Almost Over….
Published by: Look Up Books UK
Author: Michael G Knight
ISBN: 978-0-9927931-2-8
RRP Price: GBP£12.99
BIC SUBJECT CATEGORIES: RN (Earth Sciences–The Environment); FV (Historical Fiction); HR (Humanities – Religion and belief)
BRIEF DESCRIPTION: An Eco-Thriller of an imminent humanitarian disaster due to global freshwater supplies. With 1/3 of Earth's population at risk in water stress regions, THIRST explores environment information found in ancient belief systems to make hydro ecology a thing to understand. By using fictional characters in a fictional setting, it outlines a future for us that's far from fiction.
BACK COVER: In response to an escalation in volatile water wars and the ominous UN predictions for our world's swiftly depleting freshwater reserves, Mike Knight, a journalist for a global news magazine in New York, is assigned to investigate the impact suffered then produce a news report to shock the world. Having embarked on a 'tour of the planet' with Dr Leena Nikula, a beautiful French-Russian with a double doctorate in geology and environmental science, Knight's scepticism turns to horror after sprawling cities are left abandoned when whole continents lose that one vital element we all need for staying alive! However, while trying to expose the G20's ultimate conspiracy for the 21st Century, Knight unwittingly stumbles upon the greatest mystery of the 20th Century. Then, an unlikely 'saviour of the world' with a perfectly logical solution is found right at his fingertips. 
Before the international crisis in critical freshwater shortages hits the highest populations in the hottest climates from 2030 and beyond, and in preparation through this coming '7 years of plenty', all profits after costs from this book – or any other future production such as film and theatre – will go to the MKT – The Michael G Knight Trust then distributed to existing freshwater projects in some of the poorest nations on earth.
REVIEWS:
Susan – UK (A-Level English Teacher and first to read THIRST): "I thought I was given a novel, but then I saw all your references. This is a masterpiece! It definitely has a cinematic feel to it and I can't wait to see it on film!"
Joy (UK): "I didn't realize how much science was in it!"
Mark (UK): "I think this is your masterpiece."
Dorothy (Australia): "I'm up to p45 and I tell you what, it's got me hooked! I can't talk now, I have to read the book!"
David (Australia): "So excited to receive this book 'Downunder'!! You're amazing and this book is a great accomplishment. Excited to read this amazing book. Off to read…"