In a post-modern world where dark matter and folds or portals in time and space are taken seriously, today's chapter take us on a journey through the supernatural…
READ HEBREWS 1  Make notes, if you'd like, of what stands out for you. Feel free to use the "Leave a Comment" box below to also write some of your thoughts.
A THOUGHT FOR TODAY:
When history's turning point came and went (creating for us what we now know as the first century AD), there were two groups of people: those who believed in angels and spirit and those who didn't.[a] I'm not sure if anything much has changed in 2,000 years! While some today may be asking what really is an Angel, others may be happy with a "guardian angel" protecting them and their children. But could we go a step further to say that the Creator God has a whole host of angels[b] and that they can appear in human form?[c] If so, than could we venture to believe that Jesus came as Commander of the Lord's Army?[d]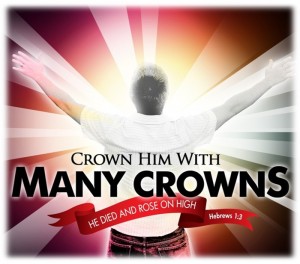 This letter to the Hebrews, was originally written by a Hebrew to Hebrews. The writer was explaining to his own people that this Jesus, was not just their "Messiah" (saviour) but was, in fact, Father God's "righteous right arm" all through HIStory.[e] "The Son is the radiance of God's glory and the exact representation of His being[f], sustaining all things by His powerful Word. After He had provided purification for sins[g], He sat down at the right hand of the Majesty in heaven." [v3]
…Read more?… CLICK to follow "23 November – Additional Notes"
But what about your thoughts – can you tell me what today's "breadcrumb" is? Leave a note in the "Comments" box below to tell me what you think of today's chapter.
Finding it hard to speak with the Creator of it all? The rest of this webpage uses Jesus' own prayer to help…[h]
THE LORD'S PRAYER:
   1.   Praise: "Our Father in Heaven, how great is Your name! Your Kingdom come! Your will be done on earth as it is in Heaven…"
I'll praise You Lord, because You counsel me; even at night my heart instructs me. [Psalm 16:7]
   2.   Ask: "…Give us today our daily bread…"
The World: Pray for the people of Tunisia[i]

Your Nation: Blessing on Your country

Yourself: Love for fellow Believers

Your concerns for today

As the rain and snow come down from heaven, making the earth to bud and flourish, so that it yields seed for the sower and bread for the eater, Your word, Father God, that goes out from Your mouth, won't return to You empty, but will accomplish what You desire, achieving the purpose for which You sent it. [Isaiah 55:10-11]
   3.   Admit: "…Forgive us our sins, as we forgive those who sin against us…"
Help me to make right choices today, Lord. After all, what other nation is so great as to have such righteous decrees and laws as this body of law that I'm looking at today? [Deuteronomy 4:8]
   4.   Protect: "…Lead us not into temptation but deliver us from the evil one…"
Thank-You Father God that You loved Your world so much that You gave Your one and only Son, so that whoever believes in Him will not perish but will have eternal life. [John 3:16]
" For Yours Lord is the Kingdom, the Power, and the Glory for ever and ever. Amen"
When questioned, tested, tricked or in His hour of great need, Jesus spoke what was previously written in God's Word.[j] So, the final section on this page is about memorizing the script through 10 topics. Following these will help you learn 52 portions from the bible in a year! THIS WEEK'S MEMORY VERSE: Topic = Spiritual Conflict
"Watch out! Your enemy the devil prowls around like a roaring lion looking for someone to devour." [1 Peter 5:8]
[a] Acts 23:6-9
[b] Luke 2:8-15
[c] Genesis c18
[d] Joshua 5:13-6:2
[e] Isaiah 51:5
[f] Isaiah 7:14
[g] Isaiah 59:16
[h] Matthew 6:5-15
[i] http://www.operationworld.org/country/tuni/owtext.html
[j] Matthew 4:4,6,7,10; 11:10; 21:13; and 26:24,31