In a world where offering your apology often equates to taking 100% of the blame, today's chapter shows a practical example of what forgiveness means…
READ PHILEMON  Make notes, if you'd like, of what stands out for you. Feel free to use the "Leave a Comment" box below to also write some of your thoughts.
A THOUGHT FOR TODAY:
After several years in South America, it was easy to pick up and take on board some of the culture and concepts of Latinos. One saying Mark adopted was: "If there's room in your heart, there's room in your home." But this first century letter to Philemon makes me wonder if I could welcome someone in that I didn't want here. Someone who did me wrong in the past. It's easy to forgive at a distance and keep that person at a distance, but if there's room in your heart there's room in your home. So then, if I'm to define forgiveness to include welcoming that person back into my heart and home, I wonder if I really am forgiving some people? Is there a whole catalogue of people out there dotted about the world, whom I'll never truly forgive – as defined by my actions towards them?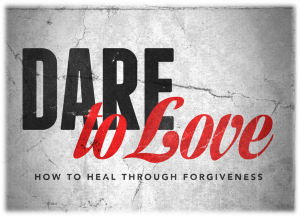 Philemon has a faith and love for all God's holy people that seemed to be reported far and wide. [v5] Paul, the writer of this letter, is really pleased because Philemon has "refreshed the hearts of the Lord's people". [v7] That so, I want to have the same love for someone who isn't that "holy" at all – someone who has "crossed me up" in the past. I want to offer true refreshment to someone that I struggle to forgive. Such that my 'partnership with my Maker's people in the faith may be effective in deepening my understanding of every good thing'. [v6] And this not just the bits that are palatable, but then drawing a line in places where I don't want to change. …Read more?… CLICK to follow "22 November – Additional Notes"
But what about your thoughts – can you tell me what today's "breadcrumb" is? Leave a note in the "Comments" box below to tell me what you think of today's chapter.
Wanting to connect with the God who forgives? The rest of this webpage uses Jesus' own prayer to help…[a]
THE LORD'S PRAYER:
Praise: "Our Father in Heaven, how great is Your name! Your Kingdom come! Your will be done on earth as it is in Heaven…"
Be exalted in Your strength, Lord! I'll sing and praise Your might. [Psalm 21:13]
Ask: "…Give us today our daily bread…"
Your Nation: Issues arising in Inner Cities

Yourself: Insight into your Creator's Word

Your concerns for today
May Your eyes be open to Your servant's plea and to the plea of Your people. Please Lord, may You listen to me whenever I cry out to You. [1 Kings 8:52]
Admit: "…Forgive us our sins, as we forgive those who sin against us…"
Lord, help me to act according to whatever You teach me and the decisions You give me. Help me not to turn aside from what I've been told, to the right or to the left. [Deuteronomy 17:11]
Protect: "…Lead us not into temptation but deliver us from the evil one…"
Jesus said: "Do not store up for yourselves treasures on earth, where moths and vermin destroy, and where thieves break in and steal. But store up for yourselves treasures in heaven, where moths and vermin do not destroy, and where thieves do not break in and steal. [Matthew 6:19-20]
" For Yours Lord is the Kingdom, the Power, and the Glory for ever and ever. Amen"
When questioned, tested, tricked or in His hour of great need, Jesus spoke what was previously written in God's Word.[d] So, the final section on this page is about memorizing the script through 10 topics. Following these will help you learn 52 portions from the bible in a year! THIS WEEK'S MEMORY VERSE: Topic = Spiritual CONFLICT
"Watch out! Your enemy the devil prowls around like a roaring lion looking for someone to devour." [1 Peter 5:8]
[a] Matthew 6:9-13
[b] https://www.operationworld.org/country/tong/owtext.html
[c] https://www.operationworld.org/country/trin/owtext.html
[d] Matthew 4:4,6,7,10; 11:10; 21:13; and 26:24,31