In an age obsessed with progress and success, today's chapter holds the key to not just being surface-level-prosperous, but actually being blessed – the substance of which affects the deepest levels of one's soul…
READ JAMES 1   Make notes, if you'd like, of what stands out for you. Feel free to use the "Leave a Comment" box below to also write some of your thoughts
A THOUGHT FOR TODAY:
Whether verbalized or not, many today are searching for the secret formula for how to be "blessed". It's the key that opens the door to what King David of Israel once sang about in Psalm 1 – being blessed in whatever we do. Well, it seems to me that today's chapter is a 1st Century treasure map with a double "X" to mark the spot!
"Do not merely listen to the word, and so deceive yourselves, do what it says. Anyone who listens to the word but doesn't do what it says, is like someone who looks at his face in a mirror and, after looking at himself, goes away and immediately forgets what he looks like. But whoever looks intently into the perfect law that gives freedom, and continues in it (not forgetting what they've heard, but doing it), they'll be blessed in what they do." [v22-25]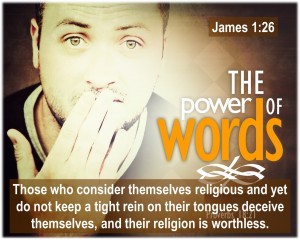 James, the brother of Jesus, goes on to say that those who consider themselves "religious" – and yet don't keep a tight rein on their tongues – are deceiving themselves and their religion is worthless. Our Maker is looking for a pure and faultless Faith from those He made in His own image to be like Him[a], and His guide-map has two simple keys: looking after those in distress and keeping away from being polluted by the world. [v26-27] …Read More? … CLICK to follow "01 December – Additional Notes"
But what about your thoughts – can you tell me what today's "breadcrumb" is? Leave a note in the "Comments" box below to tell me what you think of today's chapter.
Finding it hard to speak directly to the One who designed you to be like Him? The rest of this webpage uses Jesus' own prayer to help.[b]
THE LORD'S PRAYER:
   1.   Praise: "Our Father in heaven, hallowed be Your Name. Your Kingdom come! Your will be done on earth as it is in heaven …"
I want to praise You, Lord God Almighty, like the whole crowd of Believers who began joyfully praising You in loud voices for all the miracles they'd seen. [Luke 19:37]
   2.   Ask: "…Give us today our daily bread…"
The World: The people of the Ukraine[c]

Your Country: Ministry among International Students

Yourself: Love for fellow Believers

Your concerns for today

Jesus said: "…I'll do whatever you ask in my Name, so that the Father may be glorified in the Son." [John 14:13]
   3.   Admit: "…Forgive us our sin as we forgive those who sin against us…"
Thank-you, Father God, for being the God who moves about among humans throughout History, to protect and deliver us. Having said that, I know, Lord, that my "camp" must be holy, so that You'll not see anything indecent in or around me, and turn away from me. [Deuteronomy 23:14]
   4.   Protect: "…Lead us not into temptation but delivers us from evil."
Surely Your goodness, O Lord, and Your love will follow me all the days of my life, and I'll dwell in Your house forever. [Psalm 23:6]
"For Yours Lord is the Kingdom, the Power and the Glory now and forever. Amen!"
When questioned, tested, tricked or in His hour of great need, Jesus spoke what was previously written in God's Word.[d] So, the final section on this page is about memorizing the script through 10 topics. Following these will help you learn 52 portions from the bible in a year! THIS WEEK'S MEMORY VERSE: Topic = Spiritual Conflict
"The weapons we fight with are not the weapons of the world. On the contrary, they have divine power to demolish strongholds." [2 Corinthians 10:4]
[a] Genesis 1:26
[b] Matthew 6:5-15
[c] http://www.operationworld.org/country/ukra/owtext.html
[d] Matthew 4:4,6,7,10; 11:10; 21:13; and 26:24,31