Just as the body without a spirit is dead, today's chapter shows that Faith without action (in any religion) is dead…
READ JAMES 2  Make notes, if you'd like, of what stands out for you. Feel free to use the "Leave a Comment" box below to also write some of your thoughts
A THOUGHT FOR TODAY:
Unless there's some sign of life within it, we can only assume that it's dead. This is the understanding of anything that we encounter and, having "a living Faith" is no different. Onlookers can only assume that my Faith is dead, if there isn't some action that shows my faith to be active/alive/real. Unless I can "put legs on my Faith", it's not going anywhere! But practically, what does that mean for me today?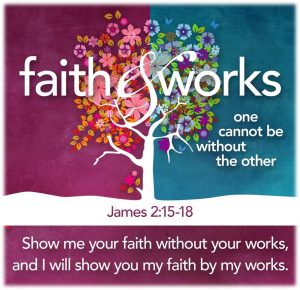 Well, to begin with, there's the day-to-day forgiveness at home, in the work place, within the extended family, or my friendships. These are the places where the "human story" can tell a rather different story to my "Faith story". Looking at the Creator God's story in history, for example, how many times has Father God opened up His arms in unconditional love, to undeserving people like ME?
In the West, we've just entered into the "Advent" season. It's a time that can highlight the discrepancy between a Living Faith in action, and something that's just a label. Wishing people well in their poverty, without actually feeding them, for example, is obvious in today's chapter. [v14-17] But my thoughts and actions can be as bad as this, without anyone knowing it!
Read More? … CLICK to follow "02 December – Additional Notes"
But what about your thoughts – can you tell me what today's "breadcrumb" is? Leave a note in the "Comments" box below to tell me what you think of today's chapter.
Wanting to connect with the One who knows you inside-out? The rest of this webpage uses Jesus' own prayer to help.[a]
THE LORD'S PRAYER:
   1.   Praise: "Our Father in heaven, hallowed be Your Name. Your Kingdom come! Your will be done on earth as it is in heaven …"
Lord, You've raised up for Your people a "horn of strength": the praise of all Your faithful servants, the people close to His heart. Praise be to the Lord! [Psalm 148:14]
   2.   Ask: "…Give us today our daily bread…"
The World: The stability of Ukraine[b]

Your Country: Labourers in God's Harvest Field[c]

Yourself: Love for the Lord

Your concerns for today

Jesus said: "…everyone who asks receives; the one who seeks finds; and to the one who knocks, the door will be opened." [Matthew 7:8]
   3.   Admit: "…Forgive us our sin as we forgive those who sin against us…"
Father, help me not to turn aside from any of the commands that You've given to me today, not to the right nor to the left, following other gods and serving them. [Deuteronomy 28:14]
   4.   Protect: "…Lead us not into temptation but delivers us from evil."
The gracious Hand of our God is on everyone  who looks to Him, but His great anger is against all who forsake Him. [Ezra 8:22]
"For Yours Lord is the Kingdom, the Power and the Glory now and forever. Amen!"
When Jesus was questioned, tested, tricked or in His hour of great need, He always spoke things that were previously written in God's Word.[d] Following these memory verses from ten topics, will help you learn 52 verses from the bible in a year! THIS WEEK'S MEMORY VERSE: Topic = Spiritual Conflict
"Submit yourselves, then, to God. Resist the devil, and he will flee from you." [James 4:7]
[a] Matthew 6:5-15
[b] http://www.operationworld.org/country/ukra/owtext.html
[c] Luke 10:2
[d] Matthew 4:4,6,7,10; 11:10; 21:13; and 26:24,31