Today's chapter talks about the devastating bushfires that have been caused by …the tongue!
READ JAMES 3  Make notes, if you'd like, of what stands out for you. Feel free to use the "Leave a Comment" box below to also write some of your thoughts
A THOUGHT FOR TODAY:
After the 1980 bushfires around Adelaide in South Australia, the states of Victoria and South Australia were again dealt a devastating blow on 16th February 1983 – Ash Wednesday in the Christian Calendar. Within a 12-hour period, 180 fires (fanned by winds of up to 110 km/h) caused the first "state of disaster" to be declared in Victorian history. Their infamy was surpassed by the shockingly lethal Black Sunday fires in 2009.
But in today's chapter, James gives an incredible picture describing our tongues in such a way that few of us stop long enough to fully understand. [v5]  James doesn't mince his words to soften the blow:
"The tongue also is a fire, a world of evil…It corrupts the whole body…and is itself set on fire by hell." [v6]  It's a wrestles evil, full of deadly poison. [v8]  With the tongue we praise God. But with it we also curse human beings, who have been made in His likeness…" [v9-10]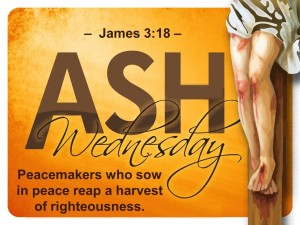 Ok – wow! But, to leave today's "Breadcrumb" there, would be a huge injustice. The complete message in this 1st Century letter, is as much true today as it ever was. Just as Jesus had previously said: "Blessed are the peacemakers, for they will be called children of God"[a] , I'm encouraged today to be a peacemaker because: "…those who sow in peace, reap a harvest of righteousness…"
Read More? … CLICK to follow "03 December – Additional Notes"
But what about your thoughts – can you tell me what today's "breadcrumb" is? Leave a note in the "Comments" box below to tell me what you think of today's chapter.
Wanting to align your life with the God of Peace? The rest of this webpage uses Jesus' own prayer to help.[b]
THE LORD'S PRAYER:
   1.   Praise: "Our Father in heaven, hallowed be Your Name. Your Kingdom come! Your will be done on earth as it is in heaven …"
Rejoice in the Lord and be glad, you righteous; sing, all you who are upright in heart! [Psalm 32:11]
   2.   Ask: "…Give us today our daily bread…"
The World: God's GRACE for the United Arab Emirates[c]

Your Country: Local Church Ministries

Yourself: Love for the Lost[d]

Your concerns for today

Father God thank-you that You have been mindful of the humble state of Your servant. From now on, all generations will call me blessed! [Luke 1:48]
   3.   Admit: "…Forgive us our sin as we forgive those who sin against us…"
Lord please help me never to grope around at midday, like a blind person in the dark. If I continue in unrestrained sin, I'll be unsuccessful in everything I do. Day after day I'll be oppressed and robbed, with no one to rescue me. [Deuteronomy 28:29]
   4.   Protect: "…Lead us not into temptation but delivers us from evil."
Surely You, Lord God, are my salvation. I'll I trust and not be afraid. The Lord, the Lord Himself, is my strength and my defence. He's become my salvation. [Isaiah 12:2]
"For Yours Lord is the Kingdom, the Power and the Glory now and forever. Amen!"
When Jesus was questioned, tested, tricked or in His hour of great need, He always spoke things that were previously written in God's Word.[e] Following these memory verses from ten topics, will help you learn 52 verses from the bible in a year! THIS WEEK'S MEMORY VERSE: Topic = Spiritual Conflict
"Submit yourselves, then, to God. Resist the devil, and he will flee from you." [James 4:7]
[a] Matthew 5:9
[b] Matthew 6:5-15
[c] http://www.operationworld.org/country/unae/owtext.html
[d] Context: Luke c15
[e] Matthew 4:4,6,7,10; 11:10; 21:13; and 26:24,31