If you're wondering why prayer doesn't work, this chapter may hold the reason…
READ JAMES 4  Make notes, if you'd like, of what stands out for you. Feel free to use the "Leave a Comment" box below to also write some of your thoughts
A THOUGHT FOR TODAY:
So as soon as I began reading this portion of James' letter, I saw flashes of arguments that I'd had with Mark down through the years.
"What causes fights and quarrels among you? Don't they come from your desires that battle within you? You desire but don't have it, so you kill and covet but you can't get what you want. You quarrel and fight and don't have because you've not asked God. When you ask, you don't receive, because you ask with wrong motives, that you may spend what you get on your pleasures." [v1-3]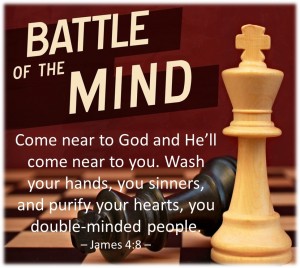 If the Creator God opposes the proud but shows favour to the humble [v6], I don't want my Maker to be against me. I want to submit to Him and resist "the devil within me". [v7] If it's at all possible to purify my heart so that I'm not double-minded [v8], then I want to "wash my hands of sin" and a spirit of conflict. I want to humble myself, so that my Creator (the One who made me to be like Him) will lift me up. [v10]
Read More? … CLICK to follow "04 December – Additional Notes"
But what about your thoughts – can you tell me what today's "breadcrumb" is? Leave a note in the "Comments" box below to tell me what you think of today's chapter.
Finding it hard to "draw near to God"? The rest of this webpages uses Jesus' own prayer to help.[a]
THE LORD'S PRAYER:
   1.   Praise: "Our Father in heaven, hallowed be Your Name. Your Kingdom come! Your will be done on earth as it is in heaven …"
You are worthy, Lord my God, to receive glory and honour and power. You created everything, and by Your will they have their being. [Revelations 4:11]
   2.   Ask: "…Give us today our daily bread…"
The World: Pray for the people of the United Kingdom[b]

Your Country: Ministries within the Military

Yourself: A deeper Love for your Family

Your concerns for today

Father, when I consider Your heavens, the work of Your fingers, the moon and stars that You've set in place, what is mankind that You're mindful of them, and human beings that You care for us? [Psalm 8:3-4]
   3.   Admit: "…Forgive us our sin as we forgive those who sin against us…"
I stand with the whole assembly of the Lord in saying: 'How could we break faith with the God of Israel like this? How could we turn away from the Lord and build for ourselves an altar in rebellion against Him now? [Joshua 22:16]
   4.   Protect: "…Lead us not into temptation but delivers us from evil."
Lord thank-you for Your grace-filled words so long ago: "…let them come to Me for refuge; let them make peace with Me, yes, let them make peace with Me." [Isaiah 27:5]
"For Yours Lord is the Kingdom, the Power and the Glory now and forever. Amen!"
When Jesus was questioned, tested, tricked or in His hour of great need, He always spoke things that were previously written in God's Word.[c] Following these memory verses from ten topics, will help you learn 52 verses from the bible in a year!  THIS WEEK'S MEMORY VERSE: Topic = Spiritual Conflict
"Submit yourselves, then, to God. Resist the devil, and he will flee from you." [James 4:7]
[a] Matthew 6:5-15
[b] http://www.operationworld.org/country/unki/owtext.html
[c] Matthew 4:4,6,7,10; 11:10; 21:13; and 26:24,31