Today's chapter is a perfect example of how the Playwright uses foolish things to shame the wise and weak things to shame the strong[a]…
READ EXODUS 6  Make notes, if you'd like, of what stands out for you. Feel free to use the "Leave a Comment" box below to also write some of your thoughts.
A THOUGHT FOR TODAY:
No one in their right mind would show up in the throne room of the greatest civilization on earth – Ancient Egypt – and stand there stuttering while your brother translates your mumbles. This is especially so if you're son of a slave and an ex-murderer who has managed to so far escape the law! At the very least, such embarrassing behaviour and waste of Pharaoh's time, would certainly warrant a death sentence! Yet their audacious presence, and unusual way of communication, was perhaps the only thing that would get Pharaoh to stop and listen:
"See, I have made you like God to Pharaoh, and your brother Aaron will be your prophet…"[b]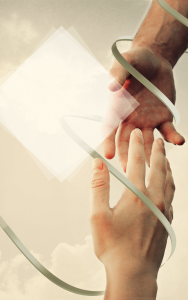 What's interesting for me in today's chapter is that, when my Maker puts His hand in mine, He has the ability to see what I can't see, and use what I certainly wouldn't use – even if I'd thought up such a plan! Moses may have experienced life with a stutter but his books (the first five books of the Bible) are still in print and sold globally in the world's all-time bestseller, four millenniums after his lifetime! In addition, they're the only part of the Bible that is accepted as authoritative Scripture by Muslims as well as Jews and Christians. Pretty amazing for a guy with "faltering lips", who had once told the Lord God Almighty to go find someone else to do the job![c]
Read More? …CLICK on "31 January – Additional Notes"
But what about your thoughts – can you tell me what today's "breadcrumb" is? Leave a note in the "Comments" box below to tell me what you think of today's chapter.
Wanting to speak directly with the Creator God? The rest of this webpage uses Jesus own prayer to help…[d]
THE LORD'S PRAYER:
   1.   Praise: "Our Father in heaven, hallowed be Your Name. Your Kingdom come! Your will be done on earth as it is in heaven …"
Let the nations give glory to the Lord and shout His praise in the coastlands. [Isaiah 42:12]
   2.   Ask: "…Give us today our daily bread…"
The World: Use the link to pray for Asia[e]

Your Country: Parents and carers of children

Yourself: The Lord's Leading in your life

Your concerns for today

What other nation on earth is so great as to have their gods near them the way You, Lord, are near to us whenever we pray to You? [Deuteronomy 4:7]
3.   Admit: "…Forgive us our sin as we forgive those who sin against us…"
My soul praises the Lord. I'll not forget His benefits. He forgives all my sin and heals all my diseases. [Psalm 103:2-3]
   4.   Protect: "…Lead us not into temptation but delivers us from evil."
May You, the God of hope, fill me with all joy and peace in believing, so that I'll abound in hope by the power of the Holy Spirit. [Romans 15:13]
"For Yours Lord is the Kingdom, the Power and the Glory now and forever. Amen!"
When Jesus was questioned, tested, tricked or in His hour of great need, He always spoke things that were previously written in God's Word.[f] Following these memory verses from ten topics, will help you learn 52 verses from the bible in a year! THIS WEEK'S MEMORY VERSE: Topic = The Creator's Will
"Trust in the Lord with all your heart and lean not on your own understanding; in all your ways submit to him, and he will make your paths straight." [Proverbs 3:5-6]
[a] 1 Corinthians 1:27
[b] Exodus 7:1
[c] Exodus 4:13
[d] Matthew 6:5-15
[e] http://www.operationworld.org/region/asia/owtext.html
[f] Matthew 4:4,6,7,10; 11:10; 21:13; and 26:24,31