With so many things that can go wrong in this world, the question "What's Good About God?" can't seem to escape an answer…
READ PSALM  100  Make notes, if you'd like, of what stands out for you. Feel free to use the "Leave a Comment" box below to also write some of your thoughts.
A THOUGHT FOR TODAY:
By July 2009, our only son Michael, had been working hard at McDonald's for just under one year. He'd saved 85% of his wages to put himself through a music academy in Coventry, England. It was dedicated to training up next generation Gospel music singer/song writers – worship leaders. His work hours gave him two days off work on July 30th and 31st 2009. These two days off work turned out to be our son's last two days on earth.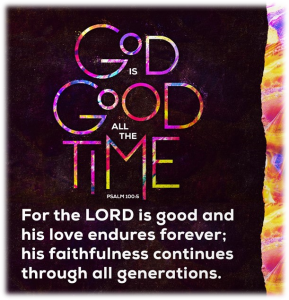 In today's Psalm, King David encouraged us all to shout for joy and worship the Lord with gladness, thanksgiving and praise. [v1,2&4] But with a lethal tornado due to hit two days later, this clearly is not based on us, or the circumstances we may be facing. So, if asked: "What's Good About God?", I think I'd base my answer now on several unchanging and stabilizing facts: the Lord is God, He made us, we are His people – the sheep of His pasture [v3]; and, the Lord is good, His love endures forever and His faithfulness continues throughout all generations. [v5] This anchored our lives, while being tossed mercilessly on a violent sea. Read More? …CLICK on "30 July – Additional Notes"
But what about your thoughts – can you tell me what today's "breadcrumb" is? Leave a note in the "Comments" box below to tell me what you think of today's chapter.
Wanting to connect with the Goodness of God? The rest of this webpage uses Jesus' own prayer to help…[a]
THE LORD'S PRAYER:
   1.   Praise: "Our Father in heaven, hallowed be Your Name. Your Kingdom come! Your will be done on earth as it is in heaven …"
I'll bless You, Lord, all the time. Your praise shall be continually on my lips. [Psalm 34:1]
   2.   Ask: "…Give us today our daily bread…"
The World: God's Grace on Kazakhstan[b]

Your Country: Children going hungry in your country

Yourself: Your ability to give

Your concerns for today

Though You Lord may be far from the wicked, You hear the prayer of the righteous. [Proverbs 15:29]
   3.   Admit: "…Forgive us our sin as we forgive those who sin against us…"
I'll return to You my Lord and God, for I've stumbled because of my great sin. [Hosea 14:1]
   4.   Protect: "…Lead us not into temptation but delivers us from evil."
Thank-you Jesus that, whoever overcomes, You'll give the right to sit down with You on Your throne, just as You also overcame and sat down with Your Father on His throne. [Revelation 3:21]
"For Yours Lord is the Kingdom, the Power and the Glory now and forever. Amen!"
When Jesus was questioned, tested, tricked or in His hour of great need, He always spoke things that were previously written in God's Word.[c] Following these memory verses from ten topics, will help you learn 52 verses from the bible in a year! THIS WEEK'S MEMORY VERSE: Topic = Our Maker's Handbook
"But his delight is in the Law of the Lord, and on His Law he meditates day and night." [Psalm 1:2]
[a] Matthew 6:5-15
[b] http://www.operationworld.org/country/kaza/owtext.html
[c] Matthew 4:4,6,7,10; 11:10; 21:13; and 26:24,31