If I said that you could not only attend the Olympics without charge, but I'd also get you onto the track among the stars, how would you respond?!
READ PHILIPPIANS 3  Make notes, if you'd like, of what stands out for you. Feel free to use the "Leave a Comment" box below to also write some of your thoughts.
A THOUGHT FOR TODAY:
Not all of us can be Olympians, but if I were to tell you that, through my connections, I had access to an Olympic Ticket Giveaway, I'm fairly sure you'd be pressing in and straining forward to be the first to grab the deal! The desirable always seems to be the unattainable! Paul, on the other hand, viewed life differently in today's chapter…
"…whatever gained, those things I've counted as loss… in view of the surpassing value of knowing Christ Jesus my Lord, for whom I've lost all things…" [v7-8]
So, looking back over the many things I've gained, and lost, since joining life's race as an adult, I realise now that whatever I achieve,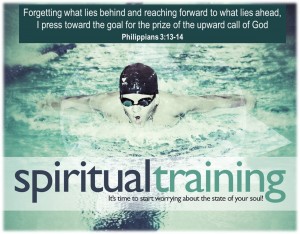 or do, and whatever recognition I managed to gain for myself, all of it in the end, will be meaningless.[a] Instead, I prefer to press on to take hold of that one thing for which Christ Jesus took hold of me. [v12] Forgetting what's behind, and straining towards what's ahead, I want to press on towards the goal to win the prize for which my Father God has called me heavenwards in Christ Jesus. [v13-14]
Read more? … CLICK to follow "26 October – Additional Notes"
But what about your thoughts – can you tell me what today's "breadcrumb" is? Leave a note in the "Comments" box below to tell me what you think of today's chapter.
Finding it hard connecting with the One who holds your Reward is His hands? The rest of this webpage uses Jesus' own prayer to help…[b] 
THE LORD'S PRAYER:
   1.   Praise: "Our Father in Heaven, how great is Your name! Your Kingdom come! Your will be done on earth as it is in Heaven…"
I want to worship You, Lord, in the splendour of Your Holiness and tremble before You, along with all the earth! [1 Chronicles 16:29-30]
   2.   Ask: "…Give us today our daily bread…"
The World: Pray for God's will for Slovakia[c]

Your Nation: Your country leader's role in world affairs

Yourself: Protection from the "evil one"[d]

Your concerns for today

Answer me quickly, Lord, or my spirit will fail. Don't hide Your face from me, or I'll be like those who go down to the pit. [Psalm 143:7]
   3.   Admit: "…Forgive us our sins, as we forgive those who sin against us…"
Now forgive my sin once more, Father God, take the "deadly plague" away from me. [Exodus 10:17]
   4.   Protect: "…Lead us not into temptation but deliver us from the evil one…"
You, O God, are my rock, in whom I take refuge; my shield and the strength of my salvation. You're my stronghold, my refuge and my saviour. [2 Samuel 22:3]
" For Yours Lord is the Kingdom, the Power, and the Glory for ever and ever. Amen"
When questioned, tested, tricked or in His hour of great need, Jesus spoke what was previously written in God's Word.[e] So, the final section on this page is about memorizing the script through 10 topics. Following these will help you learn 52 portions from the bible in a year! THIS WEEK'S MEMORY VERSE: Topic = Spiritual LIFE
Jesus said, "Remain in Me, as I also remain in you. No branch can bear fruit by itself; it must remain in the vine. Neither can you bear fruit unless you remain in Me." [John 15:4]
[a] Ecclesiastes 1:1-9
[b] Matthew 6:5-15
[c] http://www.operationworld.org/country/slov/owtext.html
[d] John 17:15
[e] Matthew 4:4,6,7,10; 11:10; 21:13; and 26:24,31