In a world obsessed with living longer, today's chapter shows how a guy gained 15 years to his life, on a day when the sun went backwards!
READ 2 Kings 20  Make notes, if you'd like, of what stands out for you. Feel free to use the "Leave a Comment" box below to also write some of your thoughts.
A THOUGHT FOR TODAY:
On our last trip to Australia, my husband packed in a ten-foot piece of rope. Our daughter helped him paint red one foot of the ten, leaving nine feet white. Intrigued? Well… he thought he may need it as a "prop" for a message about LIFE and, sure enough, the invite to speak about the Good News of Eternal Life came on the last night we were there.
Pointing to the red portion (which now looked very short up on the stage) he explained to the audience that this represents our life here on earth, while the nine feet of white rope (that stretched out and disappeared off the stage among the band equipment) is how much time there is in Eternity. So, when the Creator God introduced the concept of Eternal Life into HIStory, everything changed for us.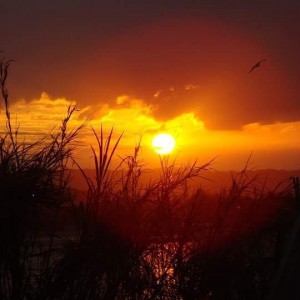 Our life here (though apparently long and important to us as we walk through it), is incredibly short in comparison to what's ahead of us in our Maker's Kingdom. King Hezekiah of Israel, about 700BC, didn't seem to know this in today's chapter. [v2] So to prove that the Creator's words are reliable (that He can not just add years to our life, but that He has the power to add eternity to it), He accurately predicted the downfall of a nation [v16-18] then made the sun go backwards! [v9-11]
Read More? …CLICK on "25 June – Additional Notes"
But what about your thoughts – can you tell me what today's "breadcrumb" is? Leave a note in the "Comments" box below to tell me what you think of today's chapter.
Wanting to connect with the Lord, the Giver of Life? The rest of this webpage uses Jesus' own prayer to help…[a]
THE LORD'S PRAYER: 
1. Praise: "Our Father in heaven, hallowed be Your Name. Your Kingdom come! Your will be done on earth as it is in heaven …"
I will ascribe to You, Lord, the glory due Your Name. I'll bring an offering and come before You. I'll worship the Lord in the splendour of His Holiness: tremble before Him, all the earth! [1 Chronicles 16:29-30a]
   2.   Ask: "…Give us today our daily bread…"
The World: Pray for God's GRACE on India[b]

Your Country: Victims caught in pornography

Yourself: Your Maker's leading in your life

Your concerns for today

Many are the wonders, Lord my God, that You've done. As for the things You planned for us, none can compare with You. If I were to tell of Your deeds, they'd be too many to declare! [Psalm 40:5]
   3.   Admit: "…Forgive us our sin as we forgive those who sin against us…"
I will seek You, Lord, along with all who are humble on this earth. By carrying out Your ordinances, seeking righteousness and seeking humility, I'll be hidden by You in the day of the Lord's anger. [Zephaniah 2:3]
   4.   Protect: "…Lead us not into temptation but delivers us from evil."
Help me to be steadfast, immovable and always abounding in Your work, Lord, knowing that my toil is not in vain in You. [1 Corinthians 15:58]
 "For Yours Lord is the Kingdom, the Power and the Glory now and forever. Amen!"
When questioned, tested, tricked or in His hour of great need, Jesus spoke what was previously written in God's Word.[c] So, the final section on this page is about memorizing the script through 10 topics. Following these will help you learn 52 portions from the bible in a year!  THIS WEEK'S MEMORY VERSE: Using our Gifting
"Love must be sincere. Hate what is evil; cling to what is good. Be devoted to one another in love. Honour one another above yourselves." [Romans 12:9-10]
[a] Matthew 6:5-15
[b] http://www.operationworld.org/country/indi/owtext.html
[c] Matthew 4:4,6,7,10; 11:10; 21:13; and 26:24,31