Sight governs our responses but today's chapter holds one of the greatest examples of supernatural perspective ever recorded…
READ GENESIS 45:1 to 46:4  Make notes, if you'd like, of what stands out for you. Feel free to use the "Leave a Comment" box below to also write some of your thoughts.
A THOUGHT FOR TODAY:
When things come my way – whether good or bad – I want to have a supernatural perspective. I want to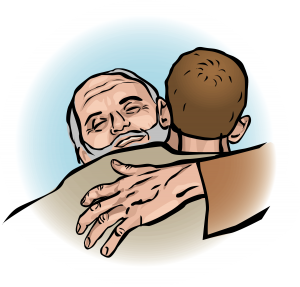 stop, think, then check any new situation against my Maker's instructions. So, I'm amazed again today, at Joseph's ability to embrace and forgive his brothers in today's chapter. After testing them to ensure that they could be trusted with his identity, and after seeing Judah trade his own life for Benjamin's – Judah was the brother who suggested selling Joseph into slavery in the first place[a] – Joseph broke down in uncontrollable tears. [v2]
In an emotional reunion, Joseph poured out his love on his brothers – lavishing them with food, clothes and gifts. I'm convinced that this was only possible because he saw the events of his life from a supernatural perspective. He no longer saw his brothers as initiators of disaster but instead, as instruments in getting him to where he ended up. [v4-5]
Read More? …CLICK on "23 January – Additional Notes"
But what about your thoughts – can you tell me what today's "breadcrumb" is? Leave a note in the "Comments" box below to tell me what you think of today's chapter.
Wanting to speak directly with the One in charge of HIStory? The rest of this webpage uses Jesus' own prayer to help…[b]
THE LORD'S PRAYER:
   1.   Praise: "Our Father in heaven, hallowed be Your Name. Your Kingdom come! Your will be done on earth as it is in heaven …"
I want to arise and shine, Lord, for my light has come and Your glory has risen upon me! [Isaiah 60:1]
   2.   Ask: "…Give us today our daily bread…"
The World: Use the link to pray for the Americas[c]

Your Country: Ministries within the Armed Forces

Yourself: Protection from the "evil one"[d]

Your concerns for today

In my trouble I cried to You, Lord, and You answered me. [Psalm 120:1]
   3.   Admit: "…Forgive us our sin as we forgive those who sin against us…"
Thank-you, Father God, that there's now no condemnation for those who are in Christ Jesus. The law of the Spirit of Life in Christ, has set me free from the law of sin and of death. [Romans 8:1-2]
   4.   Protect: "…Lead us not into temptation but deliver us from evil."
You Lord are my God who delivers and rescues and performs signs and wonders in heaven and on earth. You've also delivered Your people from the power of the lions. [Daniel 6:27]
"For Yours Lord is the Kingdom, the Power and the Glory now and forever. Amen!"
When Jesus was questioned, tested, tricked or in His hour of great need, He always spoke things that were previously written in God's Word.[e] Following these memory verses from ten topics, will help you learn 52 verses from the bible in a year! THIS WEEK'S MEMORY VERSE: Topic = The Creator God's Salvation Plan
"But as many as received Him (Jesus), to them He gave the right to become children of God, even to those who believe in His name." [John 1:12]
[a] Genesis 37:26-27
[b] Matthew 6:5-15
[c] http://www.operationworld.org/north-america
[d] John 17:15
[e] Matthew 4:4,6,7,10; 11:10; 21:13; and 26:24,31