Over the past few days my Breadcrumbs have covered some dramatic stories and the worst is yet to come! So the question is: Is there an Omniscient (all-knowing) Deity out there and does He care at all?
READ 2 Kings 8  Make notes, if you'd like, of what stands out for you. Feel free to use the "Leave a Comment" box below to also write some of your thoughts.
A THOUGHT FOR TODAY:
In January 2009 my brother and his wife had only just returned from a holiday when he felt compelled to book a trip to England. Within days they'd booked their flights to visit me on August 2nd. However, in the lead up to the trip, they couldn't understand why the "thrill" was missing from what should be a fun adventure visiting me for the first time in 25 years. As my brother placed their packed suitcases by the front door on the evening of August 1st, his phone rang. It was only then that the truth of this trip had finally been revealed.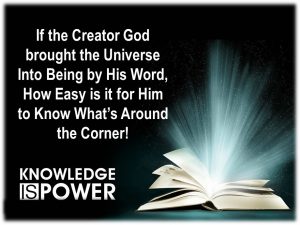 A ticket bought in such an out-of-character way, for a trip that seemed to have no excitement about it, was the best thing that could have happened under such extreme circumstances. Upon hearing the news that our son had died, my brother's packed suitcases where already waiting for them at the door. Our Omniscient (all-knowing) Father God knew seven months earlier that we'd need them by our side in hour of great need.
In today's chapter, the prophet Elisha warns a friend about a coming disaster. [v1-2] Coincidentally, she just so happened to return seven years later and, bizarre enough, her appointment to see the King about regaining her land was timed to perfection – right at the very moment that Elisha's ex-servant was talking to the King about her! [v3-5] It's a moment that seems to defy the law of probability! Only our All-Knowing Creator God could have planned for all the puzzle pieces to come together with such perfection, for the lady in today's chapter. But it's these supernatural coincidences, that we too have experienced. We now call them "God-incidents". My brother's story above, and many more like it, are found in my first book Breadcrumbs in the Storm.
Read More? …CLICK on "22 June – Additional Notes"
But what about your thoughts – can you tell me what today's "breadcrumb" is? Leave a note in the "Comments" box below to tell me what you think of today's chapter.
Finding is hard to speak directly with your All-Knowing Maker? The rest of this webpage uses Jesus' own prayer to help…[a]
THE LORD'S PRAYER:
   1.   Praise: "Our Father in heaven, hallowed be Your Name. Your Kingdom come! Your will be done on earth as it is in heaven …"
Lord, You're my God. I'll exalt You and praise Your name, for in perfect faithfulness You've done wonderful things – things planned from long ago. [Isaiah 25:1]
   2.   Ask: "…Give us today our daily bread…"
The World: Pray for God's GRACE on India[b]

Your Country: People Living in Fear

Yourself: Spiritual Growth

Your concerns for today

Now, my God, may Your eyes be open and Your ears attentive to the prayers offered to You today in this place. [2 Chronicles 6:40]
   3.   Admit: "…Forgive us our sin as we forgive those who sin against us…"
Do not hide Your face from me, Lord, and don't turn Your servant away in anger. Because You've been my helper, please don't reject me or forsake me, God my Saviour. [Psalm 27:9]
   4.   Protect: "…Lead us not into temptation but delivers us from evil."
In You, Lord, the whole global structure is joined together. It rises to become a holy temple in the Lord. And in You, I too am being built up with Your people to become a dwelling in which You live by Your Spirit. [Ephesians 2:21-22]
 "For Yours Lord is the Kingdom, the Power and the Glory now and forever. Amen!"
When questioned, tested, tricked or in His hour of great need, Jesus spoke what was previously written in God's Word.[c] So, the final section on this page is about memorizing the script through 10 topics. Following these will help you learn 52 portions from the bible in a year!  THIS WEEK'S MEMORY VERSE: Using our Gifting
"God also testified to this salvation by signs, wonders and various miracles, and by gifts of the Holy Spirit distributed according to His will." [Hebrews 2:4]
[a] Matthew 6:5-15
[b] http://www.operationworld.org/country/indi/owtext.html
[c] Matthew 4:4,6,7,10; 11:10; 21:13; and 26:24,31