Can anyone still trust the Creator God? If yes, then today's chapter holds one of the greatest examples, even on the worst day of their lives…
READ 1 SAMUEL 2  Make notes, if you'd like, of what stands out for you. Feel free to use the "Leave a Comment" box below to also write some of your thoughts.
A THOUGHT FOR TODAY:
If it's easy to give up on the concept of a Maker, simply because He made your life differently to how you'd want Him to, how grievous would it be to worship Him after He takes from you what you'd previously dedicated to Him …but hoped He wouldn't want!
While ironing our Michael's clothes for the last time, in preparation for his burial, Hannah's tear-stained face was all I could think of. I've tasted Hannah's most bitter day – the day she handed over her only son. Through the tears, I imagined her struggling to see the thread as she tried sewing up that little linen ephod for the boy she could never keep. [v18-19]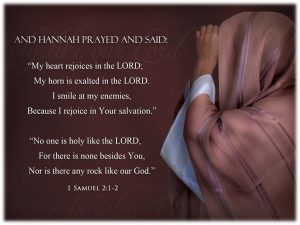 Can the Creator God be trusted? If so, is it still possible to put faith in Him – or to go a step further, as Hannah did, and praise Him in the storm? As a result of discovering, through extreme circumstances, that her strength was lifted high in the Lord, Hannah joins the ranks of those throughout history whose hearts rejoice when HOPE is found in God their Maker. [v1]
Read More? …CLICK on "20 May – Additional Notes"
But what about your thoughts – can you tell me what today's "breadcrumb" is? Leave a note in the "Comments" box below to tell me what you think of today's chapter.
Finding it hard to connect with the God who gives and takes away? The rest of this webpage uses Jesus' own prayer to help…[a]
THE LORD'S PRAYER: 
   1.   Praise: "Our Father in heaven, hallowed be Your Name. Your Kingdom come! Your will be done on earth as it is in heaven …"
I'll sing to the Lord, for He's highly exalted! The Lord is a warrior. The Lord is His name. Your Right Hand, O Lord, is majestic in power. Your Right Hand, O Lord, shatters the enemy. [Exodus 15:1,3&6]
   2.   Ask: "…Give us today our daily bread…"
The World: The people of Ethiopia[b]

Your Country: Parachurch Ministries

Yourself: Boldness in talking about God's Good News

Your concerns for today

Every good thing and perfect gift, is from above. It comes down from the Father of Lights, in whom there is no variation or shifting shadow. [James 1:17]
   3.   Admit: "…Forgive us our sin as we forgive those who sin against us…"
Thank-You, Lord, that You're gracious and merciful; slow to anger and great in loving-kindness. [Psalm 145:8]
   4.   Protect: "…Lead us not into temptation but delivers us from evil."
I don't have to fear, for You, O Lord, are with me. I don't have to be anxiously looking about, for You're my God. You'll strengthen me, surely. You'll help me, surely. You'll uphold me with Your righteous Right Hand. [Isaiah 41:10]
"For Yours Lord is the Kingdom, the Power and the Glory now and forever. Amen!"
When Jesus was questioned, tested, tricked or in His hour of great need, He always spoke things that were previously written in God's Word.[c] Following these memory verses from ten topics, will help you learn 52 verses from the bible in a year! THIS WEEK'S MEMORY VERSE: Serving Others
"Therefore, as we have opportunity, let us do good to all people, especially to those who belong to the family of believers." [Galatians 6:10]
[a] Matthew 6:5-15
[b] http://www.operationworld.org/country/ethi/owtext.html
[c] Matthew 4:4,6,7,10; 11:10; 21:13; and 26:24,31