Today's chapter covers the instructions for an inner circle of friends and family from a man about to die…
READ DEUTERONOMY 6  Make notes, if you'd like, of what stands out for you. Feel free to use the "Leave a Comment" box below to also write some of your thoughts.
A THOUGHT FOR TODAY:
With the sun beaming in my window from a blue sky, a promise of spring warmth and a cycle ride to be joined in an hour, today's news is not looking good for a friend of ours. This morning's email tells us that the cancer is aggressively taking over his body and I'm left wondering what I would do to "transition out", if it were my last days/weeks on earth.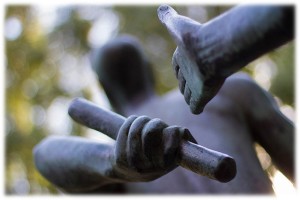 Like my friend, Moses knew that his time had come. The Book of Deuteronomy would be his "Last Will and Testament" and the first chapters seem to be one last reminder to those he loved in light of a good, and prolonged, future without him. [v1-3]  Three things are important and he's drumming them in as he passes the baton on:
First, it seems to me that it's not enough to know and believe in my head that God exists and has a plan and place that He's leading me to – it has to drop into my heart. [v5-6]  Secondly, this in turn won't just affect my behaviour and personal lifestyle – it'll have a knock-on effect in the advice I hand on to others. [v7-9]  Thirdly, once it penetrates the culture of my family life… "Then is shall come about that…" [v10]
In other words, if I were to pass on a baton, I'd be interested in what's being passed, what's being received, what's being dropped, and if the transition is right way around. If I put God to the test [v16], instead of passing His test [v17], I'll risk getting to my destination: the place He's leading me to enter into [v18] – the place where my friend will soon cross over to. Our Maker's Plan was always about bringing us out, in order to bring us in. [v23]  So I observe all these statutes and fear the Lord our God because it's for my good always and for my survival. [v24].…Read More… CLICK on "20 February – Additional Notes"
But what about your thoughts – can you tell me what today's "breadcrumb" is? Leave a note in the "Comments" box below to tell me what you think God is saying to you, through today's chapter.
THE LORD'S PRAYER:
   1.   Praise: "Our Father in heaven, hallowed be Your Name. Your Kingdom come! Your will be done on earth as it is in heaven …"
I will praise You, Lord, among the nations! I'll sing of You among the peoples. For great is Your love that extends to the heavens; Your faithfulness reaches to the skies. [Psalm 57:9-10]
   2.   Ask: "…Give us today our daily bread…"
The World: Pray for the government of Armenia[a]

Your Country: Those trapped in addictions

Yourself: Needs among your extended family

Your concerns for today
Blessed am I when I find wisdom and gain understanding, for this is more profitable than silver and yields better returns than gold. [Proverbs 3:13-14]
   3.   Admit: "…Forgive us our sin as we forgive those who sin against us…"
In my behaviour today, help me Lord, to remember that love is patient and kind. Love isn't envious, jealous or boastful. Love is not proud or arrogant. [1 Corinthians 13:4]
   4.   Protect: "…Lead us not into temptation but delivers us from evil."
"This is what the Lord says, 'Do not fear or be discouraged because of this vast army, for the battle is not yours but God's.'" [2 Chronicles 20:15]
"For Yours Lord is the Kingdom, the Power and the Glory now and forever. Amen!"
THIS WEEK'S MEMORY VERSE: Topic = The Creator's Will
"The world and its desires will pass away, but whoever does the will of God lives forever." [1 John 2:17]