Today's story shows how the finer details in "small print" of a legal agreement can reverse our fortunes…
READ RUTH 4  Make notes, if you'd like, of what stands out for you. Feel free to use the "Leave a Comment" box below to also write some of your thoughts.
A THOUGHT FOR TODAY:
I hate "the small print". Every time I'm updating something on my computer they get me to agree to something that I don't want to waste time reading! Then there's the things you agreed to and signed for, but are later hit with extra costs hidden in the "small print"! I wish I could get from "A" to "B" in everything, without the need for reading.
So it's with interest that I notice in today's chapter the words acquire, inheritance, redeem and redemption. [v5-6] Like everything of great value in this life, it's already owned. So if you want it, you need to acquire it or inherit it. If you're lucky enough, you can redeem it freely using a voucher, or lottery ticket. Either way there's a document to read and the greater the price for redemption, the more you'll have to read.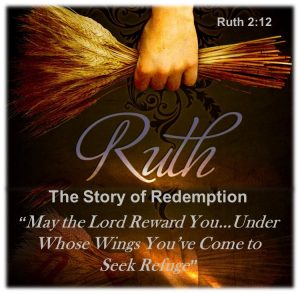 I'm sure that Ruth's story has been preserved for us to read to today, to show how someone can go from being a poverty stricken alien on foreign land to instant co-owner, when their life's been redeemed. Once foreigners and alienated from the Creator God – hostile in mind, engaged in evil deeds[a] – we can be redeemed. Bought at a high price, we can now inherit with all God's children, everything that our Father's Kingdom holds.[b] It's all there in writing in His Word.
All we have to do today, to acquire our destiny[c], is read the small print.[d] Read More? …CLICK on "18 May – Additional Notes"
But what about your thoughts – can you tell me what today's "breadcrumb" is? Leave a note in the "Comments" box below to tell me what you think of today's chapter.
Wanting to speak directly to your Great Redeemer? The rest of this webpage uses Jesus' own prayer to help…[e]
THE LORD'S PRAYER:
   1.   Praise: "Our Father in heaven, hallowed be Your Name. Your Kingdom come! Your will be done on earth as it is in heaven …"
May I arise and shine this morning, Lord, for my light has come! The glory of the Lord rises upon me! [Isaiah 60:1]
   2.   Ask: "…Give us today our daily bread…"
The World: Pray God's Grace on Estonia[f]

Your Country: County/State & Local Leaders

Yourself: Wisdom for Obedience

Your concerns for today

You open Your hand, Father God, and You satisfy the desires of every living thing. [Psalm 145:16]
   3.   Admit: "…Forgive us our sin as we forgive those who sin against us…"
I've set myself up against You, Lord of heaven. I've taken what's considered "sacred" and I've celebrated life with it. I've toasted the "gods" of money, success and what's apparently strong and secure, but which cannot see or hear or understand. May I take warning from ancient days and honour You, Father God, for You hold in Your hands my life and all my ways. [Daniel 5:23]
   4.   Protect: "…Lead us not into temptation but delivers us from evil."
Thank-You Lord that You've told me these things, so that in You, I may have peace. In this world I'll have trouble but, I can take heart because You've overcome the world. [John 16:33]
 "For Yours Lord is the Kingdom, the Power and the Glory now and forever. Amen!"
When Jesus was questioned, tested, tricked or in His hour of great need, He always spoke things that were previously written in God's Word.[g] Following these memory verses from ten topics, will help you learn 52 verses from the bible in a year!  THIS WEEK'S MEMORY VERSE: An Assured Future
Each one should use whatever gift you've been given to serve others, faithfully administering God's grace as it comes in its various forms. [1 Peter 4:10]
[a] Jeremiah 6:8 and Colossians 1:21-23
[b] Galatians 3:29 & James 2:5 (See also Romans 8:17; Ephesians 3:6; Titus 3:7; Hebrews 6:17)
[c] Romans 8:29-30; Ephesians 1:5&11
[d] 1 Corinthians 2:6-10 (Referring to v7-8)
[e] Matthew 6:5-15
[f] http://www.operationworld.org/country/esto/owtext.html
[g] Matthew 4:4,6,7,10; 11:10; 21:13; and 26:24,31