If the saying is true: "It's for freedom that we've been set free", then the 'fruit' (or evidence) of that must surely be shown in our lifestyle 'diet'…
READ GALATIANS 5  Make notes, if you'd like, of what stands out for you. Feel free to use the "Leave a Comment" box below to also write some of your thoughts.
A THOUGHT FOR TODAY:
With the freedom of summer over, it's time to think about discipline. But today's chapter begins with these words: "It is for freedom that Christ has set us free…" [v1] The spiritual freedom that my Maker bought for me at the highest price, comes with His Holy Spirit who is now alive and at work in me. Outside of anything I could achieve on my own (whether through discipline, books, rituals, markings, labels, tattoos, symbols or surgery), I'm not just taking in and taking on some ancient guru's patterns or teaching. In practical terms, I'm now set free to adopt the sort of fruitarian diet the likes of which few have heard of.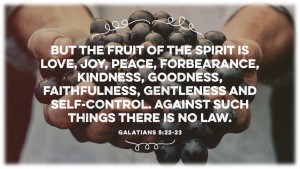 By allowing my Creator's Holy Spirit to empower me from within, He demonstrates His own fruit in my lifestyle. Within a supernatural 'diet' of thinking, choices and behaviour every day, "…the fruit of the Spirit is love, joy, peace, patience, kindness, goodness, faithfulness, gentleness and self-control. And, against such things there is no law." [v22-23]
Read more? … CLICK to follow "16 October – Additional Notes"
But what about your thoughts – can you tell me what today's "breadcrumb" is? Leave a note in the "Comments" box below to tell me what you think of today's chapter.
Wanting to speak directly with the Creator of Freedom? The rest of this webpage uses Jesus' own prayer to help…[a]
THE LORD'S PRAYER:
   1.   Praise: "Our Father in Heaven, how great is Your name! Your Kingdom come! Your will be done on earth as it is in Heaven…"
Your glory, Lord, covers the heavens and Your praise fills the earth! Your splendour is like the sunrise – rays flash from Your Hand. [Habakkuk 3:3-4]
   2.   Ask: "…Give us today our daily bread…"
The World: God's Grace in Russia[b]

Your Nation: Christian Education Institutions in your country

Yourself: Wisdom in Decision Making

Your concerns for today

May You be gracious to me and bless me, Father God. Make Your face shine on me. [Psalm 67:1]
   3.   Admit: "…Forgive us our sins, as we forgive those who sin against us…"
Now forgive my sin once more. I pray to You, Lord God, to take the deadly plague of sin away from me. [Exodus 10:17]
   4.   Protect: "…Lead us not into temptation but deliver us from the evil one…"
Thank-you, Jesus, for promising that whoever acknowledges You before others, You'll also acknowledge us before Your Father in heaven. [Matthew 10:32]
" For Yours Lord is the Kingdom, the Power, and the Glory for ever and ever. Amen"
When questioned, tested, tricked or in His hour of great need, Jesus spoke what was previously written in God's Word.[c] So, the final section on this page is about memorizing the script through 10 topics. Following these will help you learn 52 portions from the bible in a year! THIS WEEK'S MEMORY VERSE: Topic = Spiritual LIFE
"But grow in the grace and knowledge of our Lord and Saviour Jesus Christ. To him be glory both now and for ever! Amen." [2 Peter 3:18]
[a] Matthew 6:5-15
[b] http://www.operationworld.org/country/russ/owtext.html
[c] Matthew 4:4,6,7,10; 11:10; 21:13; and 26:24,31