No matter how important we are (or what we've achieved in life), I've noticed that there'll always be prayers that aren't answered in the way we'd want them to be…
READ 2 CORINTHIANS 12  Make notes, if you'd like, of what stands out for you. Feel free to use the "Leave a Comment" box below to also write some of your thoughts.
A THOUGHT FOR TODAY:
It took the death of our only son (and the realisation that his body will remain here – in the town where he grew up), before I'd begun to notice where I was living. For twenty years, I was pining for what I'd given up and didn't have – a home and life in Australia, where I felt I belonged. My one "thorn in the flesh", as Paul called it [v7], was that I was a foreigner, exiled in a foreign land not my own. I was living life with a limp.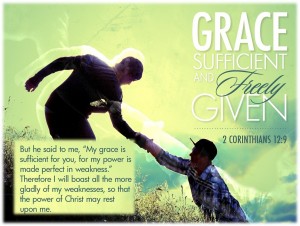 But by not accepting my life, and the way it was turning out, I wasn't able to see God's GRACE. When I came to the place where I "counted my blessings", I not only found that His grace was sufficient for me [v9], it was much more than just "sufficient"! It was everything I needed to get by and get on. I had lost twenty years, experiencing life with a limp, while I focused on what was outside my reach.
Believers face difficulties as natural consequences of our own choices. But even if they're outside our fault or control, hardship strengthens us, corrects us, and, in today's chapter, it humbles us. If we lived in sunshine and never in rain, we'd become conceited. So, after praying three times that Father God would remove his affliction, Paul accepted his limp…  Read more? … CLICK to follow "15 October – Additional Notes"
But what about your thoughts – can you tell me what today's "breadcrumb" is? Leave a note in the "Comments" box below to tell me what you thought of today's chapter.
Struggling to speak with the God of Grace? The rest of this webpage uses Jesus' own prayer to help…[a]
THE LORD'S PRAYER:
   1.   Praise: "Our Father in Heaven, how great is Your name! Your Kingdom come! Your will be done on earth as it is in Heaven…"
"Then a voice came from the throne, saying: 'Praise our God, all you His servants, you who fear Him, both great and small!'" [Revelation 19:5]
   2.   Ask: "…Give us today our daily bread…"
The World: The rich/poor divide in Russia[b]

Your Nation: Jesus' Great Commission for us[c]

Yourself: Love for your family

Your concerns for today

Give attention to Your servant's prayer and my plea for mercy, Lord my God. Hear the cry and the prayer that I'm praying in Your presence this day. [1 Kings 8:28]
   3.   Admit: "…Forgive us our sins, as we forgive those who sin against us…"
I know, my God, that You test the heart and You're pleased with integrity. Whatever I've given to You, or whatever I've changed in my life, I've tried to do willingly and with honest intent. [1 Chronicles 29:17]
   4.   Protect: "…Lead us not into temptation but deliver us from the evil one…"
You're my strength, Father God, and I sing praises to You my God and my fortress. You're the God on whom I can rely. [Psalm 59:17]
" For Yours Lord is the Kingdom, the Power, and the Glory for ever and ever. Amen"
When questioned, tested, tricked or in His hour of great need, Jesus spoke what was previously written in God's Word.[d] So, the final section on this page is about memorizing the script through 10 topics. Following these will help you learn 52 portions from the bible in a year! THIS WEEK'S MEMORY VERSE: Topic = Spiritual LIFE
"But grow in the grace and knowledge of our Lord and Saviour Jesus Christ. To him be glory both now and for ever! Amen." [2 Peter 3:18]
[a] Matthew 6:5-15
[b] http://www.operationworld.org/country/russ/owtext.html
[c] Matthew 28:18-20
[d] Matthew 4:4,6,7,10; 11:10; 21:13; and 26:24,31