Sometimes it's easy to write off the Creator God and His people. In today's chapter He commanded them to engage in barbaric genocide and they did it…
READ DEUTERONOMY 2  Make notes, if you'd like, of what stands out for you. Feel free to use the "Leave a Comment" box below to also write some of your thoughts.
A THOUGHT FOR TODAY: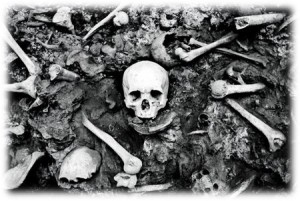 One thing that stood out for me today is the cringe factor in the storyline – particularly v34. There's this one black blotch on the script and it looks like barbaric genocide. But the idea of making excuses for the Creator God's decision making process, regardless of any good intentions to protect His reputation, our limited explanations will almost certainly be wrong.
The best way for me to deal with my Maker is to face, head on, every part of HIStory. Then, work through the script to a point where my faith in Him is strengthen – with or without the answers I'd originally hoped for. Like the decision He made over our son's life, the decisions that He made in the distant past – especially the actions that led to total destruction with no survivors – may never fully be understood. But just as corruption in the past required unprecedented divine intervention, in the last days…
"…scoffers will come, scoffing and following their own evil desires…But they deliberately forget that long ago by God's word the heavens came into being and the earth was formed out of water and by water. By these waters also the world of that time was deluged and destroyed. By the same word the present heavens and earth are reserved for fire, being kept for the Day of Judgment and destruction of the ungodly….The Lord is not slow in keeping His promise, as some understand slowness. Instead He is patient with you, not wanting anyone to perish, but everyone to come to repentance."[a]
Read More? …CLICK on "16 February – Additional Notes"
But what about your thoughts – can you tell me what today's "breadcrumb" is? Leave a note in the "Comments" box below to tell me what you think of today's chapter.
Finding it hard to speak directly with the Creator God? The rest of this webpage uses Jesus' own prayer to help…
THE LORD'S PRAYER:
   1.   Praise: "Our Father in heaven, hallowed be Your Name. Your Kingdom come! Your will be done on earth as it is in heaven …"
I praise You, Lord, because You stretch out Your right hand, and the earth swallows Your enemies. In Your unfailing love You will lead the people You have redeemed. In Your strength You'll guide them to Your holy dwelling. [Exodus 15:12-13]
   2.   Ask: "…Give us today our daily bread…"
The World: Pray for the people of Angola[b]

Your Country: Social Workers and Family Crisis Teams

Yourself: Deeper Love for the Lord

Your concerns for today
Above all material needs, I pray that the eyes of my heart may be enlightened in order that I may know the hope to which You, Lord, have called me – the riches of Your glorious inheritance in Your holy people. [Ephesians 1:18]
   3.   Admit: "…Forgive us our sin as we forgive those who sin against us…"
Lord, if I turn back to You with all my heart and soul in the land of my captivity where I find myself, and if I pray, then from heaven, Your dwelling place, hear my prayer and plea. Uphold my cause. Forgive your people, who have sinned against you. [2 Chronicles 6:38-39]
   4.   Protect: "…Lead us not into temptation but delivers us from evil."
Return to us, God Almighty! Look down from heaven and see! Watch over this vine, the root that Your right hand has planted[c], the Son You've raised up for Yourself. [Psalm 80:14-15]
"For Yours Lord is the Kingdom, the Power and the Glory now and forever. Amen!"
THIS WEEK'S MEMORY VERSE: Topic = The Creator's Will
"For we are God's workmanship, created in Christ Jesus to do good works that God has prepared in advance for us to walk in." [Ephesians 2:10]
[a] 2 Peter 3:3-9
[b] http://www.operationworld.org/country/ango/owtext.html
[c] John 15:1-8