If money is an issue, today's chapter shows how the concept of "increasing your net worth" was top on the agenda even in the first century AD…
READ 1 TIMOTHY 6  Make notes, if you'd like, of what stands out for you. Feel free to use the "Leave a Comment" box below to also write some of your thoughts.
A THOUGHT FOR TODAY:
When our Mikey passed away, we experienced, first-hand, how he brought nothing into the world, and he couldn't take anything from it. [v7]  With people all over the world today without even these basic things, I should be content with the food, clothing and shelter that I have. [v8] So if there's one thing that's relevant in today's "How to Get Rich" culture, it's the idea that "…Those who want to get rich, fall into temptation. A trap of many foolish and harmful desires, can plunge people into ruin and destruction. For the love of money is a root of all kinds of evil." [v9]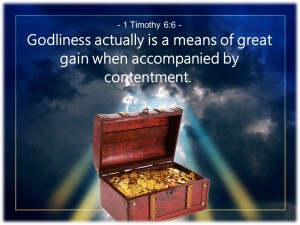 In today's chapter – the close of a letter written in the 1st Century AD – Paul puts forward the idea that contentment mixed with "godliness" that will bring great gain. [v6]  So my prayer today is that I'm never "eager for money", preoccupied with planning my financial future, or how to get rich. I don't want to wander from my faith in Jesus [v21] – who, in many ways, was homeless, rootless and "unsuccessful" and didn't at all fit in here. If I give focus to getting rich quick, I'm likely to end up "piercing myself with many griefs". [v10]
Read more?… CLICK to follow "14 November – Additional Notes"
But what about your thoughts – can you tell me what today's "breadcrumb" is? Leave a note in the "Comments" box below to tell me what you think of today's chapter.
Wanting to connect with the Creator of gold, silver and precious stones? The rest of this webpage uses Jesus' own prayer to help…[a]
THE LORD'S PRAYER:
   1.   Praise: "Our Father in Heaven, how great is Your name! Your Kingdom come! Your will be done on earth as it is in Heaven…"
You turned my grief to dancing. You removed my shroud of darkness and clothed me with joy! My heart sings Your praises and will not be silent. Lord, my God, I'll praise You always! [Psalms 30:11-12]
   2.   Ask: "…Give us today our daily bread…"
The World: Pray for the people of Syria[b]

Your Nation: Gospel Education Institutions

Yourself: Your extended Family

Your concerns for today

Thank-you God that You are able to do immeasurably more than all I ask or imagine, according to Your power that is at work within me. [Ephesians 3:20]
   3.   Admit: "…Forgive us our sins, as we forgive those who sin against us…"
When I'm defeated by an enemy because I've sinned against You, and when I turn back to You and give praise to Your name, praying and making supplication to You, then hear from heaven and forgive my sin, and bring me to the place that You've prepared. [1 Kings 8:33-34]
   4.   Protect: "…Lead us not into temptation but deliver us from the evil one…"
Save me, God our Saviour! Gather me and deliver me from the nations, so that I may give thanks to Your holy Name and glory in Your praises! [1 Chronicles 16:35]
" For Yours Lord is the Kingdom, the Power, and the Glory for ever and ever. Amen"
When questioned, tested, tricked or in His hour of great need, Jesus spoke what was previously written in God's Word.[c] So, the final section on this page is about memorizing the script through 10 topics. Following these will help you learn 52 portions from the bible in a year! THIS WEEK'S MEMORY VERSE: Topic = Spiritual LIFE
"Therefore, if anyone is in Christ, the new creation has come: the old has gone, the new is here!" [2 Corinthians 5:17]
[a] Matthew 6:5-15
[b] http://www.operationworld.org/country/syri/owtext.html
[c] Matthew 4:4,6,7,10; 11:10; 21:13; and 26:24,31