In societies where government pension provisions are shrinking, and people are turning to private plans for investment returns to secure their future, today's chapter offers a guaranteed future option…
READ 2 CORINTHIANS 5  Make notes, if you'd like, of what stands out for you. Feel free to use the "Leave a Comment" box below to also write some of your thoughts.
A THOUGHT FOR TODAY:
Upon opening the letter from my Umbrella Pension Plan in Australia, I couldn't believe what I was reading. Since 2008, their files on my identity had been switched. I'd been getting correspondence, and statements, from someone else's pension! This meant that my husband was sole beneficiary for someone else's pension upon their death! I still shake my head today with incredulity.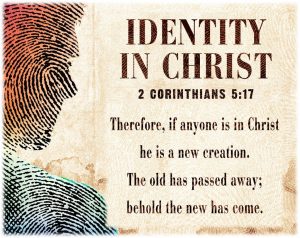 Today's chapter, on the other hand, provides full confidence in my Maker's Investment Plan for me. It's based on an eternal identity that will never change. The Creator God's Perfect (mistake-free) Plan can be tapped into by anyone on earth. It's a new creation – the old, temporal and inadequate has gone; the new has come! [v17]
After three decades of combing the globe for any sign of a decent replacement plan, I've found that there's no other Future Option on the planet, that can give me a full and valid reconciliation statement – reconciling me to my Creator God Himself. [v18] It's for an investment return that guarantees not just being robed in the righteousness of Jesus[a], but actually becoming "the righteousness of God"! [v21]   …Read more? … CLICK to follow "12 October – Additional Notes"
But what about your thoughts – can you tell me what today's "breadcrumb" is? Leave a note in the "Comments" box below to tell me what you think of today's chapter.
Wanting to connect with the One who's planning it all? The rest of this webpage uses Jesus' own prayer to help…[b]
THE LORD'S PRAYER:
   1.   Praise: "Our Father in Heaven, how great is Your name! Your Kingdom come! Your will be done on earth as it is in Heaven…"
I want to sing to You Lord, with grateful praise. I want to make music to my God on the harp. [Psalm 147:7]
   2.   Ask: "…Give us today our daily bread…"
The World: The role of the Russian Orthodox in Russia[c]

Your Nation: Ministry among military personnel

Yourself: Sharing your personal God-stories

Your concerns for today

Thank-you Lord, that when those most vulnerable cry out to You, You'll certainly hear their cry. [Exodus 22:23]
   3.   Admit: "…Forgive us our sins, as we forgive those who sin against us…"
Help me to be blameless and upright, Father God, someone who fears You and shuns evil. [Job 1:8]
   4.   Protect: "…Lead us not into temptation but deliver us from the evil one…"
Don't destroy Your people, Sovereign Lord, Your own inheritance that You redeemed by Your great power. You bought me out of slavery at a high price, by Your mighty Right Hand. [Deuteronomy 9:26]
" For Yours Lord is the Kingdom, the Power, and the Glory for ever and ever. Amen"
When questioned, tested, tricked or in His hour of great need, Jesus spoke what was previously written in God's Word.[d] So, the final section on this page is about memorizing our Maker's script through 10 topics. Following these will help you learn 52 portions from His Handbook in a year! THIS WEEK'S MEMORY VERSE: Topic = A Good Caretaker
"Honour the Lord from your wealth, and from the first of all you produce." [Proverbs 3:9]
[a] Isaiah 61:10
[b] Matthew 6:5-15
[c] http://www.operationworld.org/country/russ/owtext.html
[d] Matthew 4:4,6,7,10; 11:10; 21:13; and 26:24,31