With the growing interest in something beyond the natural, it's important to understand humanity's limitations…
READ 2 CORINTHIANS 4  Make notes, if you'd like, of what stands out for you. Feel free to use the "Leave a Comment" box below to also write some of your thoughts.
A THOUGHT FOR TODAY:
Over the last 3+ decades, I've visited more than 80 countries. In that time, I've had the privilege of experiencing a wide range of expressions of Belief in the Creator God and His Word. During my last trip to Australia, I was told by someone "in the know", that I could have a gift in mystic prophecy! While this sounds wonderfully exotic, and could "puff me up", something caught my eye in today's chapter…
The first six verses put the foundation of 'enlightenment' on level-headed knowledge. [v2] At a time in world history where humanity's limitations are visible, perhaps more than ever before,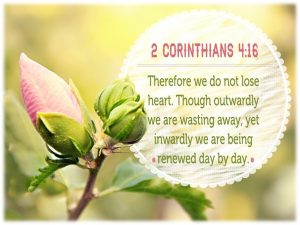 Faith can't be based on a form of legitimized superstition (practiced even among professing Believers), which is based on feelings, desires (no matter how 'noble') or clever fortune-telling-type-tricks dished out under the banner of "prophecy". Faith, in today's world, is proven real when we don't lose heart. [v1&16] We choose instead, to keep trusting the One whose voice created light from darkness. [v6]
Read more? … CLICK to follow "11 October – Additional Notes"
But what about your thoughts – can you tell me what today's "breadcrumb" is? Leave a note in the "Comments" box below to tell me what you think of today's chapter.
Wanting to connect with the One who knows it all? The rest of this webpage uses Jesus' own prayer to help…[a]
THE LORD'S PRAYER:
   1.   Praise: "Our Father in Heaven, how great is Your name! Your Kingdom come! Your will be done on earth as it is in Heaven…"
Who among the gods is like You, Lord? You're majestic in holiness and awesome in glory. You work wonders among us. [Exodus 15:11]
   2.   Ask: "…Give us today our daily bread…"
The World: God's GRACE in Romania[b]

Your Nation: The work of local churches in your country

Yourself: Faithfulness with your "treasures"[c]

Your concerns for today

I call on You, my God, for You will answer me. Turn Your ear to me, Lord, and hear my prayer. [Psalm 17:6]
   3.   Admit: "…Forgive us our sins, as we forgive those who sin against us…"
Help me to make sure that my heart doesn't turn away from You today, Lord my God, to go after other "gods". Lord, help me make sure there's no root in me that produces such bitter poison. [Deuteronomy 29:18]
   4.   Protect: "…Lead us not into temptation but deliver us from the evil one…"
I want to be strong and very courageous, Father God. I want to be careful to obey all the law that Your servant Moses gave to us. If I don't turn from it – neither to the right nor to the left – I'll be successful wherever I go. [Joshua 1:7]
" For Yours Lord is the Kingdom, the Power, and the Glory for ever and ever. Amen"
When questioned, tested, tricked or in His hour of great need, Jesus spoke what was previously written in God's Word.[d] So, the final section on this page is about memorizing our Maker's script through 10 topics. Following these will help you learn 52 portions from His Handbook in a year! THIS WEEK'S MEMORY VERSE: Topic = A Good Caretaker
Honour the Lord from your wealth, and from the first of all you produce. [Proverbs 3:9]
[a] Matthew 6:5-15
[b] http://www.operationworld.org/country/roma/owtext.html
[c] Matthew 6:19-21
[d] Matthew 4:4,6,7,10; 11:10; 21:13; and 26:24,31