Fifteen centuries after a written agreement is entered into, the stage curtains to an epic saga open up on the desert scene once more …and a voice is heard of one calling in the desert…
READ MATTHEW 3  Make notes, if you'd like, of what stands out for you. Feel free to use the "Leave a Comment" box below to also write some of your thoughts.
A THOUGHT FOR TODAY:
One of our daughter's favourite TV shows is BBC One: The Voice. It's a British talent show where four superstars become coaches in a knockout competition. Turned away from the stage, so that they can't see the contestants, nothing of their appearance, their style and dress sense, or their performing ability and stage presence, is taken into account. It's only their voice that matters for becoming winner of The Voice.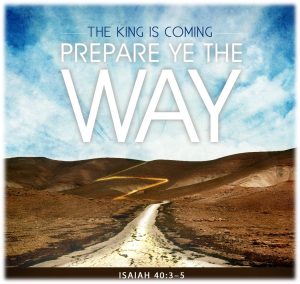 In today's chapter, the voice of One is still heard calling in the wilderness. The stage is set for the greatest story ever told, and it'll change history forever. "A voice out of the heavens said, 'This is My Son, the Beloved, in whom I am well-pleased.'" [v17]  "Listen to Him!"[a]  But here's the question that's remains unanswered for centuries: Will we or will we not obey His voice today, and do all that our Creator says?
Read More… CLICK on "02 March – Additional Notes"
But what about your thoughts – can you tell me what today's "breadcrumb" is? Leave a note in the "Comments" box below to tell me what you think of today's chapter.
Wanting to speak directly with the One calling you by name? The rest of this webpage uses Jesus' own prayer to help…[b]
THE LORD'S PRAYER:
   1.   Praise: "Our Father in heaven, hallowed be Your Name. Your Kingdom come! Your will be done on earth as it is in heaven …"
Surely this is my God. I trusted in Him, and He saved me. This is the Lord in whom I trust. Let me rejoice and be glad in His salvation. [Isaiah 25:9]
   2.   Ask: "…Give us today our daily bread…"
The World: Pray for the government of Bangladesh[c]

Your Country: God's will on earth

Yourself: Deeper love for your family

Your concerns for today

Help me to remember, Lord, that the entire law is fulfilled in keeping this one command: "Love your neighbour as yourself." [Ephesians 5:14]
   3.   Admit: "…Forgive us our sin as we forgive those who sin against us…"
May I not keep talking proudly or let my mouth speak arrogance, for the Lord is a God who knows, and by Him deeds are weighed. [1 Samuel 2:3]
   4.   Protect: "…Lead us not into temptation but delivers us from evil."
Let Your favour rest on me, Lord, and establish the work of my hands. Yes, establish the work of my hands. [Psalm 90:17]
"For Yours Lord is the Kingdom, the Power and the Glory now and forever. Amen!"
When Jesus was questioned, tested, tricked or in His hour of great need, He always spoke things that were previously written in God's Word.[d] Following these memory verses from ten topics, will help you learn 52 verses from the bible in a year! THIS WEEK'S MEMORY VERSE: Topic = The Creator's Will
"And we know that God causes all things to work together for good to those who love God, to those who are called according to His purpose." [Romans 8:28]
[a] Matthew 17:5
[b] Matthew 6:5-15
[c] http://www.operationworld.org/country/bang/owtext.html
[d] Matthew 4:4,6,7,10; 11:10; 21:13; and 26:24,31