If you think that there can't be a God out there, because He's not interested in us, today's chapter shows that the Creator hasn't just created the stage, He's ensuring that HIStory goes according to script…
READ 1 Kings 1  Make notes, if you'd like, of what stands out for you. Feel free to use the "Leave a Comment" box below to also write some of your thoughts.
A THOUGHT FOR TODAY: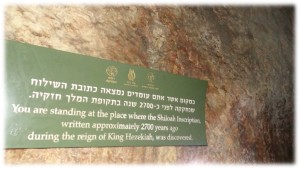 In 2012, I had the privilege of walking 750m in total darkness down Hezekiah's water tunnel under ancient Jerusalem. When we emerged into daylight, we'd come out at an excavation site of the Pool of Siloam – a "healing pool" in the 1st Century AD.[a] So in reading today's chapter, written centuries earlier, I'm wondering if this wasn't the Gihon – the exit point from the Gihon spring higher up the mountain [v33,38] – that they took Solomon down to, before he was taken up to the city. [v35,45]
What a puzzle board of interlocking pieces! But nothing is new to Father God who is in total control of HISstory. He who knows it all – past, present and future – knows more…
Adonijah was in the sacred tent, clinging onto the horns of the altar begging for forgiveness. [v50-51] When Solomon was told, he replied, "If he shows himself to be worthy, not a hair of his head will fall to the ground; but if evil is found in him, he will die." [v52]  So yet another extremely important puzzle piece is excavated from the dust of this ancient storyline: the game plan hasn't changed even today. When I seek refuge in the Creator's dwelling place, not a hair on my head will fall to the ground. But if, on the other hand, evil remains in me, I will surely die.[b]  Read More? …CLICK on "01 June – Additional Notes"
But what about your thoughts – can you tell me what today's "breadcrumb" is? Leave a note in the "Comments" box below to tell me what you think of today's chapter.
Finding it hard to speak directly to the Master Planner? The rest of this webpage uses Jesus' own prayer to help…[c]
THE LORD'S PRAYER: 
   1.   Praise: "Our Father in heaven, hallowed be Your Name. Your Kingdom come! Your will be done on earth as it is in heaven …"
Hear this, you kings! Listen, you rulers! I, even I, will sing to the Lord. I'll praise the Lord, the God of the Universe, in song. [Judges 5:3]
   2.   Ask: "…Give us today our daily bread…"
The World: God's Grace on Germany[d]

Your Country: Revival among Believers

Yourself: Effective use of your time

Your concerns for today

Dear Lord, my God, give attention to your servant's prayer and my plea for mercy. Hear the cry and the prayer that your servant is praying in Your presence today. [2 Chronicles 6:19]
   3.   Admit: "…Forgive us our sin as we forgive those who sin against us…"
If you, Lord, kept a record of sins, who could stand? But with You there's forgiveness, so that I can, with reverence, serve You. [Psalm 130:3-4]
   4.   Protect: "…Lead us not into temptation but delivers us from evil."
Thank-You Father that the Spirit I've received doesn't make me a slave, so that I live in fear again. Rather, the Spirit I've received brought about my adoption to sonship. And by You I now cry, "Abba, Father." [Romans 8:15]
"For Yours Lord is the Kingdom, the Power and the Glory now and forever. Amen!"
When Jesus was questioned, tested, tricked or in His hour of great need, He always spoke things that were previously written in God's Word.[e] Following these memory verses from ten topics, will help you learn 52 verses from the bible in a year! THIS WEEK'S MEMORY VERSE: Using our Gifting
"Now you are the Body of Christ, and each of you is a part of it." [1 Corinthians 12:27]
[a] John 9:1-7
[b] Genesis 2:16-17 and Romans 6:23
[c] Matthew 6:5-15
[d] http://www.operationworld.org/country/germ/owtext.html
[e] Matthew 4:4,6,7,10; 11:10; 21:13; and 26:24,31