PHILIPPIANS 3 – Olympic Ticket Giveaway!
When young, I had an adolescent dream of becoming an Olympian. A proud moment, before leaving school, was gaining the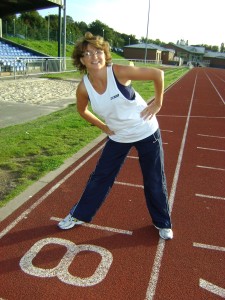 school trophy for Athletics Champion of the Year, for my age group. My interest in "Going for Gold" gained ground after many house moves, and I seemed to always be "the new kid in school". Quite by chance, however, while in secondary school, I found that I could fly. I was an overnight success with friends jostling for me to be on their athletics and sports teams! So with every move of school thereafter, my sights were always set on the athletics season. It was through my athletics abilities that I gained all my friends, at whatever school I went to. I'd have friends as soon as I had a chance to run.
I intuitively knew that I was a middle distance runner so, my first cross-country race was a real killer. Halfway through it, a group of us noticed that the runners returning to the school were in a street not more than 100 metres from us. I could see that the line of runners in front of me were making their way around a community building on a small open park before retuning back towards us in the next street. With quick thinking, and no teachers posted at that point to stop us, a handful of us nipped across the field to join the crowd returning back to the school. We'd cut a good 400 metres off the race!
The home run was where I got my energy. I could see the school at the "T" junction in the distance ahead of me so, lifting my knees high, I changed to a double-length stride. Fixing my eyes on the school, I braced my upper-body and changed to a relaxed, comfortable and deeper
pattern of breathing so that only my legs did the work. The only thing that made me sorry at that moment, was not being able to see the red faces of all the exhausted runners as I glided passed them like "The Roadrunner".[a]  I could sense that they were all shocked, so I called over my shoulder, "Come on fatties, you can do it! Put some effort into it!" I was alive with the wind in my hair and, powered with a sort of deep joy, I was flying!
I entered the school gates and could see the large lower sports field opening up before me. About a hundred runners were ahead of me but with the numbers in our school and the size of that sports field, it looked only to be a few. With the field staked out with signs and ropes, I had to find my "Under 15s" lane without changing my pace. Striding down my finishing lane with the flight of an Emu, I puffed to an end and asked a couple of bewildered-looking teachers, "Where is everyone? Am I the first?" It took several minutes for anyone else to show up and in the adrenaline rush and amazement that I was first (knowing that long distance running wasn't my thing), I'd totally forgotten that I'd cheated!!!
With this initial "win" I entered the Athletics Season at my last High School on a high. I won every race I entered, including my first 100 metre hurdles. I didn't know the rules to a hurdle race and stopped running after I jumped the last hurdle.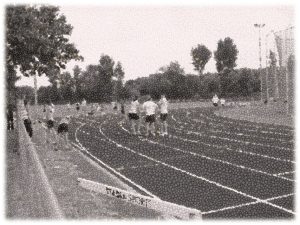 All the teachers on the finish line began calling to me as the other runners glided over the last hurdle beside me. So I took off again and still won the race! I ran faster, vaulted higher and sprang further than anyone I knew. By the end of the sports season that year I'd won the U15s Athletics Champion of the Year trophy.
That year, our PE teacher also showed us film clips of Olympians doing "the straddle" technique for High Jump.[b]  She then took us through a lesson dedicated to teaching this one technique to the whole class. Somehow I just "got it" and was the best in our class. By the end of that lesson, I was the only one left jumping. Years later, I wondered if she was carrying on "the show" in the same hope that I had – that one change, that one correction to my technique that would change my destiny, and perhaps hers. Weirdly enough, I still find myself in the dark at night, with the vivid memory of that day – working through the corrections in my high jump technique that could have taken me to glory.
But what is all this to do with gaining a free ring-side ticket for glory?
Going for Gold in a spiritual sense had two routes in Paul's day: to easy way or the hard way but the problem had always been an unattainable standard at Olympic level – perfection. [v12] The Creator God expects perfection[c] but He hasn't given us a burden that we can't bear.[d] The desirable isn't the unattainable. He has now come, by His Holy Spirit, to live inside His people so that we can fly on eagle's wings[e]…
Centuries earlier, the ancient prophet Nehemiah discovered that the joy of the Lord is our strength.[f] Paul's concerned for the joy that spurs people on to win and win well shows through in this letter. "Rejoice in the Lord" [v1] "…worship in the Spirit of God and glory in Christ Jesus and put no confidence in the flesh…" [v4]
History, from Genesis right through to the last prophets before Christ, has shown that the idea of "putting confidence in the flesh" for winning a spiritual race was bound to fail. By the time Paul wrote his letter there were two ways for crossing the finish line, through the good news of grace and forgiveness, or through the law and regulated ritual. Paul was a professional marksmen when it came to hitting the target of law, custom and ritual. [v4-6]  But from that background, he said…
"Whatever things were gain to me, those things I've counted as loss for the sake of Christ… I count all things to be loss in view of the surpassing value of knowing Christ Jesus my Lord…" [v7-8]
To cross the finish line at the end of our race here, and to gain the prize – which is Eternal LIFE – Paul wrote: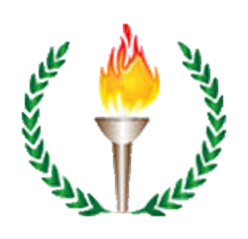 "I count it all [all my so-called religious and righteous deeds] rubbish so that I may gain Christ, and may be found in Him, not having a righteousness of my own derived from the Law, but that which is through faith in Christ, the righteousness which comes from God on the basis of faith, that I may know Him and the power of His resurrection … in order that I may attain to the resurrection from the dead." [v8-10]
There's a lot in Paul's academic style of writing that makes a chapter like this hard to read and hard to explain. Using The Message paraphrase of the Bible can help. In a nutshell, what stands out for me today is the power to press on and lay hold [v12, 14]; reaching forward to what lies ahead [v13] – the prize of the upward call of God. [v14]  To keep living by this high standard [v16], I'll join God's Family in following this example and observe others who walk in this pattern. [v17]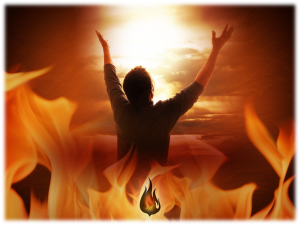 "There's far more to life for us. We're citizens of high heaven! We're waiting the arrival of the Saviour, the Master, Jesus Christ, who will transform our earthy bodies into glorious bodies like His own. He'll make us beautiful and whole with the same powerful skill by which He is putting everything as it should be, under and around him." [v20-21 MSG]
CLICK to return to today's "Daily Breadcrumbs"
[a] https://www.youtube.com/watch?v=qWdFIXn2Mdo
[b] https://www.youtube.com/watch?v=d6lpk_9T5hM
[c] Matthew 5:48
[d] Matthew 11:30
[e] Isaiah 40:31
[f] Nehemiah 8:10