HEBREWS 8 – Permanently Debt Free!
To understand the first two verses of this chapter, it'd be worth reading Zechariah Chapter Three. It's about Zechariah's prophetic vision of Joshua, the current High Priest of his day.
In order for the High Priest to go into The Most Holy Place inside the temple (behind the curtain) to speak directly with God on behalf of God's people, and to make amends for our wrong-doing, he had to be clean. He went through a series of rituals in order to make himself clean. After ceremonially washing, he would then put on beautiful clothes that had to be put on inside the temple and taken off inside the temple so that they wouldn't get contaminated. The attention put into the exquisite detail of these sacred garments, which gave dignity and honour to the High Priest, can be seen in Exodus Chapters 28 and 39.
With the careful handling, storage and oversight of these robes that were to represent the utter purity of being spiritually "germ-free" – just to be able to stand in God presence let alone speak freely to Him – it would be unthinkable to have a prophetic vision that showed Joshua the High Priest standing in the presence of the Holy Ones in filthy rags! Yet this was exactly what Zechariah saw.
What's ironic, is that the name Joshua means "He saves" and yet the vision of him (the only hope at that time for the nation) dressed in filthy rags, proved that he had no hope at all of standing up for himself, much less any of the rest of us!!
Now if there had been nothing wrong with that first covenant (the first system or "agreement"), no place would have been sought for another. But God found fault with the people. In the sight of a perfect Creator God, even the best of our best was second rate. Under a "spiritual scanning machine" even the High Priest was standing in filthy rags – just as Joshua was in the vision.
"All of us have become like one who is unclean, and all our righteous acts are like filthy rags; we all shrivel up like a leaf, and like the wind our sins sweep us away."[a]
So Father God sent the ancient prophet Jeremiah with this message: "'A time is coming,' declares the Lord, 'when I will make a new covenant with my people…'" [v7-8]
In a season where there hasn't been a Jerusalem Temple for 2,000 years, the point of today's chapter in this letter to the Hebrews is to say, we DO have such a High Priest! He sat down at the right hand of the throne of the Majesty in heaven [v1] – just as the prophet Daniel said He did:
"In my vision at night I looked, and there before me was one like a son of man, coming with the clouds of heaven. He approached the Ancient of Days (Father God Himself) and was led into His presence. He was given authority, glory and sovereign power; all nations and peoples of every language worshiped Him. His dominion is an everlasting dominion that will not pass away; His kingdom will never be destroyed."[b]
This same person whom Father God called "Yeshua" (a variant of Joshua meaning "He Saves") – "…for He will save His people from their sins…"[c] – now serves in "the sanctuary", the true tabernacle in heaven set up by the Lord, not by human hands. [v2] In fact, it is almost certain that the person speaking with Joshua in the vision – the one interceding for Joshua against accusations and taking away his filthy clothes – was in fact the same one that Father God was to send into the world:
"I am going to bring my servant, 'the Branch'. See, 'the stone' I have set in front of Joshua!" [Zech.3:8-9]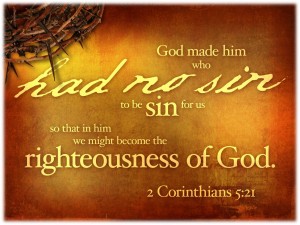 Now every High Priest is appointed to offer both gifts and sacrifices, and so it was necessary for this one also to have something to offer. [v3] And this He did, when He became the one perfect sacrifice: the Lamb of God who takes away the sin of the world.[d]  The covenant (the new agreement) of which He is mediator, is superior to the old one, since the new covenant is established on better promises. [v6]
"'This is the covenant that I will establish with my people,' declares the Lord. 'I'll put my laws in their minds and write them on their hearts. I'll be their God, and they will be my people. No longer will they teach their neighbour, or say to one another, 'Know the Lord,' because they will all know me, from the least of them to the greatest. For I will forgive their wickedness and will remember their sins no more.'"[e]
When He said, 'A new covenant,' He made the first obsolete. And whatever is obsolete and growing old, will surely disappear. [v13]
In AD70, the forces of Rome invaded Jerusalem and completely destroyed the temple, along with any hope of effecting the sacrificial system of the old agreement. For two thousand years now, our Creator God has either ditched His people with no chance at all of connecting with Him – or else – He's actual true to His Word and has done exactly what He said He'd do. He's forgiven our wickedness and has remembered our sins no more – thus making us permanently and irrevocably debt free! Incredible!
CLICK to return to today's "Daily Breadcrumbs"
[a] Isaiah 64:6
[b] Daniel 7:13-14
[c] Matthew 1:21
[d] John 1:29 &36; Revelation 5:6
[e] Jeremiah 31:31-34