REVELATION 5: THE UNTOLD STORY OF CHRISTMAS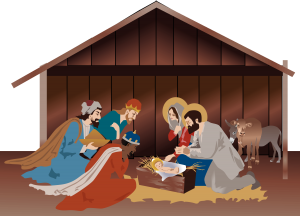 Waking up this morning to the 5th Chapter of John's Revelation, I can't help but see the amazing difference in storyline between a baby in a Middle-Eastern stable and The Lamb who is called by names that are clearly reserved only for the Creator God Himself – just as it had been predicted by the ancient prophet Isaiah.[a]
With the first Christmas over and all those images still in my mind from the festivities of yesterday, Father God has accomplished His most ancient plan – a plan that He had originally set in motion 2,500 years earlier with a man called Abraham.[b]  When John saw the scroll in the Creator's right hand, for example, he was seeing much more than what you or I could imagine. For one thing, this right hand that held the scroll was the same "uplifted right hand" by which the Sovereign Lord swore that we'd bear the consequences of our sin.[c]  That "Righteous Right Hand" by which the Creator God moved His relationship with humanity into a legal contract, in the days of Moses.[d]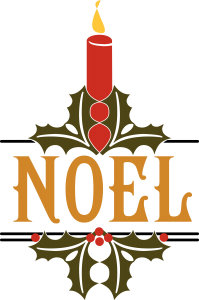 What you are reading here today is part of the final book in an epic and complex storyline, which covers the whole of HIStory. It shows how the Creator God begins a personal relationship with one man, his family, then a nation. Now HIStory involves that whole world[e] and the story of Christmas heralds His first "Noel" – which means: "Good News". But this chapter, in today's Breadcrumb, starts with an ancient question that had been asked in the days of Isaiah: who could be found in heaven or on earth who would be worthy enough to fulfil, or capable of fulfilling, the Creator God's global dreams. [v1-2]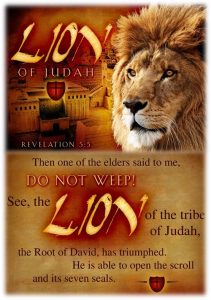 King David and King Solomon of Israel had previously declared that none are righteous; no one truly understands; no-one seeks God; all have turned away; together we've become useless to our Maker because none can do good.[f] And yet again here in today's chapter 1800 years after they said it, no one could be found in heaven or on the earth or under the earth who was able (worthy) to open the Creator God's Master Plan, or even to look into it. [v3-4] But the untold story of Christmas – those "good tidings of comfort and joy" that we sing about every year – is our greatest "Good News" story ever told. Through the shoot of David[g], God will finish HIS own story in history. [v5]
Father God has indeed provided both a solution and a conclusion to HIS own story – a Lamb, looking as though He was slain. [v6-9] He has established for Himself a kingdom and priests [v10], just as He said He would when He spoke to Moses.[h]  This is now the full story of Christmas. It's what happened after the "Son of the Most High"[i] was born; after the baby became a man; and after the man lived, died, then rose again.[j]  This is precisely what caused 100 million angels to sing:
"Worthy is the Lamb that was slain to receive power, riches, wisdom, might, honour, glory and blessing." [v12]
So then, although Christmas is perhaps my favourite time of the year when the weather turns cold and dark evenings close in; the food; the glowing candles; the warm fire; and the tree and decorations to make it special. Christmas is actually the pivotal point in HIStory as its played out in world history. It's the hinge upon which the door of heaven flings wide open, and the "End Times" begin.
So, if I were to leave Christmas at the story of a manger birth, I'd be serving you with only half the story. The word "advent" means expectant. And at the first "advent", two people were waiting expectantly in the Christmas story. Both male and female, they represented all humanity. Their names weren't Mary and Joseph as you may suppose. Instead, they were Simeon and Anna and they were waiting for "the consolation of Israel".[k] But what can console us today, at a time when the Christmas message of joy, hope, and peace seems so far from reality?
Surely our consolation will come when we see how the play ends. John, a close friend of Jesus, was one of several to unveil the Great Playwright's conclusion.  In his vision, every created thing which is in heaven and on the earth and under the earth and on the sea, and all things in them, could be heard saying: "…to You who sits on the throne, and to the Lamb, be blessing and honour, glory and dominion forever and ever. Amen!" [v13] So, with six days left to this year, what could I possibly look forward to and what could I suggest to you that would be worth looking forward to when all we need is Him…
Click to return to today's "Daily Breadcrumbs"
[a] Isaiah 9:6
[b] Genesis 12:3 and 28:14
[c] Ezekiel 44:12
[d] Deuteronomy 29:14-15
[e] John 3:16
[f] Psalms 14:1-3; 53:1-3; Eccles. 7:20 (See Also Romans 3:10-12)
[g] Isaiah 11:1-5
[h] Exodus 19:6
[i] Luke 1:26-38
[j] Daniel 7:13-14
[k] Luke 2:25-38