05 December – Additional Notes
JAMES 5 – Shared Wealth
Driving along the motorway on Tenerife, one of the Canary Islands, Mark and I couldn't help but thank our God for His blessing over our lives. We were visiting our ship for ten days with leadership meetings and, arriving into yet another beautiful place, we were filled with thankful hearts.
I'd come from a broken family and, by Australian standards, we were "the poor kids" in the school – stealing sandwiches from the rubbish bins and being taunted for either not having a school uniform, or wearing the wrong uniform from a different school!
One of my earliest memories, includes having a cardboard school port with wool hinges that my brother made me for my first day of school. I was so proud of it and went off to school with the big kids, in great excitement. However, by lunch time, the rain got to it! I came out of class to find a pile of soggy cardboard on the school bag rack! My school port was completely flat like wet paper – well… apart from a lump in the middle, where my soggy sandwiches were. I was five years old yet can still remember standing there crying bitterly. Someone must have told a teacher because I was taken off to the staff room (which was incredibly special) and given one of their sandwiches.
Five decades later, we found ourselves driving along looking out at the palm trees that were glowing in the gold light of the setting sun. I couldn't help but marvel again at how Father God had picked me out of where I'd been, giving me the incredibly different life that I now live. But as wonderful as that is, our present "lucky life" is firmly anchored to a very serious warning. Jesus said that, in the Kingdom of God, many who are now first will be last, and many who are last here will be first there.[a]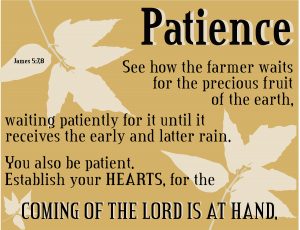 So James finishes this 1st Century letter with a parting thought – not to hoard wealth. History has proven that wealth is like shifting sand or water through our fingers. [v1-3]  In his day, James was addressing people who didn't pay their staff [v4], or lived in luxury and self-indulgence [v5] – people who put the death the Word of God so that its message against their behaviour would be silenced. [v6] For those left wanting and still waiting for "springtime" [v7], James encourages them to stand firm and wait patiently for divine intervention. [v8]
But what stood out for me today from this portion of James' letter, was something that could be easily overlooked. Although I'd started our time with our ship in Tenerife on a happy note (feeling blessed for the physical world I'd been led to, in comparison to where my life had once been so long ago), I swiftly dropped into grumbling over the intangible blessings that I'd seen in other people's lives. As if my blessings weren't enough, I could see how other people are picked for significant roles in our organisation, while I'm overlooked; how lucky men are compared to women; or, how lucky the young are to be chosen these days instead of the middle-aged.
"Don't grumble against one another, brothers and sisters, or you will be judged. The Judge is standing at the door!" [v9]
Two things I noticed from this. First is the imminence of my Maker's presence. For all I know, I could be standing before my Maker tomorrow and all my grumblings about today (in light of all the things I was given yesterday), will be judged. What I've noticed is that my complaints all relate to my strengths – my strengths had become my weaknesses. Let me explain…
Years ago, I did a strengths test using Strengths Finder 2.0[b] Through it, I'd discovered that my Maker had blessed me when He hand-crafted me and knitted me together in my mother's womb.[c] My blue-print design had in it: Significance, Achiever, Focus, Command, and Belief – with Strategy added in my Strengths Based Leadership. However, it seems to me that these are my source of grumbling whenever I look around at "the lucky breaks" everyone else seem to get. So Father God has reminded me again today of how petty I am in my grumblings when so many people out there are really suffering…
"Brothers and sisters, as an example of patience in the face of suffering, take the prophets who spoke in the name of the Lord. As you know, we count as blessed those who have persevered. You have heard of Job's perseverance and have seen what the Lord finally brought about (in the Book of Job). The Lord is full of compassion and mercy." [v10-11]
His list of things to close his letter makes me wonder if James may have been trying to head off some of the grumblings within the family of God – alternative actions, instead of grumbling, which avoids trouble in relationships, helps to alleviate hardship, and shares the wealth of Father God's Grace…
Give your word and stand by it – do what you said. [v12]
Pray in hard times and Praise in good times. [v13]
Rely on God's family for prayer when you're sick, or ensnared. [v14-15]
Keep an open account and clean slate. You Maker hears you and He is faithful. [v16-18]
Keep together and keep accountable. Don't give up or give in. Stick to Father God and His people. [v19-20]
CLICK to return to today's "Daily Breadcrumbs"
[a] Matthew 19:28-20:16 (See also Mark 10:31 and Luke 13:30)
[b] http://www.strengthsfinder.com/home.aspx
[c] Psalm 139:13