JOHN 14: FAMOUS LAST WORDS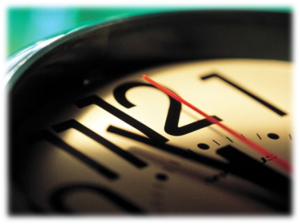 If I had less than 24hrs to live, as Jesus did in today's chapter, what would I say my closest friends and family? Many of us wouldn't think this way. But I've lived long enough to know that the unexpected happens more often than what we care to realise. It's certainly worth at least having a Will in place but, carefully thought through last words are even better.
It was October 10th 2009 and, after weeks away at sea, our daughter came home. So, this was the day we'd planned for opening up our late son's belongings. We were to go through it all together, deciding what each wanted to keep, and what had to be let go. It was one of those rotten days to endure. There was nothing good at all about waking up to the dawn of that wretched day. So, before gritting my teeth to face it, I opened my QuieTimes[a] book, only to discover that my Bible reading for that day, came from the 2nd Letter to the Corinthians Chapter One…
"Praise be to the God and Father of our Lord Jesus Christ, the Father of compassion and the God of all comfort, who comforts us in all our troubles, so that we can comfort those in any trouble with the comfort we ourselves receive from God." [2 Corinthian 1:3-4]
In the same way that His Holy Spirit and His Word comforted us on that cheerless October day in 2009, Jesus, in today's chapter, proves Himself to be the "best shepherd". With hours left to live, He's concerned for the wellbeing of His "sheep" whose hearts are trouble. [v1] Just as it was in the days of the prophet Isaiah, when the Creator God said: "Comfort, O comfort My people…"[b] that was the role of the prophet which, in the end, Jesus showed Himself to be.
When they were about to take away the body of our lovely son, I managed to get time alone with him in his room. While I knelt face-down next to his lifeless body, with my mind in a complete spin over what on earth had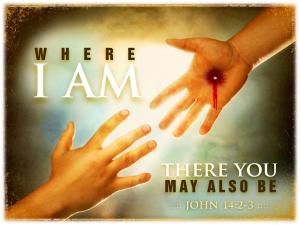 just happened, Jesus words comforted me: "My Father's house has many rooms; if that were not so, would I have told you that I am going there to prepare a place for you? And if I go and prepare a place for you, I will come back and take you to be with me that you also may be where I am." [v2-3] With no medical reason that could be found to explain why Mikey left us, we could only assume that the Lord the Giver of Life had taken Mike – just as He promised/foretold/warned us that He would.
If the Creator God's Name is "I AM"[c], and if the Creator's Name had been implanted into a second person – just as the Creator told Moses[d] – then Jesus is right to say: "I AM the way the truth and the Life…" [v6] The Creator God is indeed all that, and all three world religions who believe in the Creator God will agree to this.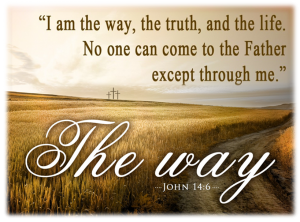 However, if Jesus is the only one in HIStory whom the Creator God entrusted with carrying His Name within Himself, then He is the only one able to say, and is indeed right in saying: "…no-one comes to the Father except through Me." It's not bold or brazen of Him, if you care to piece together all the Creator's puzzle pieces.
Anyone sceptical of Jesus claims about Himself will seriously not understand His outlandish statements in v7-11. If these are Jesus' "famous last words", these would be the last words a sceptic would endure before ditching Him completely. But if we understand that we were originally created in the image of God to be like Him[e], and if Jesus was the exact representation of the Creator God[f] – not the best that we're likely to get in a human, but someone who managed it 100% as it was originally intended – then it's not illogical for Jesus to say, "…if you know me, you'll know the Father as well…" [v7] But there's more puzzle pieces…
Even as far back as the first book in HIStory, there's been a physical person who's been called a "man" – because He looked like a physical human man i.e. able to eat food and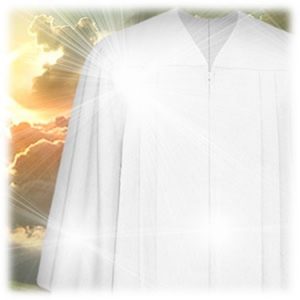 even able to be held and wrestled with – and yet, as the conversation goes on, He's able to "bless", judge, and He's called both "Lord" and "God".[g] When the nation if Israel first crossed the Jordan River to settle in Israel, for example, the first person they met was someone in the shape of a man who was called the Captain of the Hosts of the Lord.[h] Now this doesn't sound so weird, if He was an angel. However, He then told Joshua to take off his shoes because he was standing on holy ground – a thing that only ever happened once, when Moses met God Almighty at the burning bush.[i] In addition, He was then called LORD (in capital letters) which is the title only given to God Himself.
When you know that these puzzle pieces exist and that no-one from the original community of Believers are openly explaining these puzzle pieces (if not to at least ask who this person is, why He's in human form, and yet why their ancestors happily called Him LORD), it's reasonable to put two-and-two together to suggest that Jesus could well be this person…
"Believe me when I say that I am in the Father and the Father is in me; or at least believe on the evidence of the works themselves." [v11]
From the beginning, Father God has only ever wanted for us to know what He said and believe it.[j] It's after this that things get interesting. Through the ancient prophet Joel, the Creator God foretold a day when He'd "pour out His Holy Spirit on all humankind.[k]  7+ Centuries later, Jesus explains to His friends what that would look like…
Believers will also do the things that Jesus could do in a greater/prolonged extent. [v12]

In Jesus Name, Believers can have direct access to the Creator God's storehouse of gracious provision. [v13-14]

Believers will finally be able to keep God's commandments. [v15&21]

Believers will have a divine advocate and helper [v16-17] in just the same way that man was given a suitable "helper" to partner with him in the beginning.[l]

This means that the Creator God is not aloof and distant and Believers aren't left to walk our life journey alone. [v18]

The Holy Spirit of the Lord of Life enables Believers to be spiritually alive. [v19]

The connection that we've always meant to have with the Creator God – as image-bearers, created in His image to be like Him – is finally restored. Like an electric circuit, Believers are now a functioning unit with their Father God. [v20]

This relationship with the God of Love[m] enables Believers to be loved by the Creator God. [v21]
And so, with the coming Holy Spirit, there'll naturally be two groups of people – those who have believed in a restored connection through the Creator's Holy Spirit, and those who don't. This is not a nasty thing to say, it was common knowledge in the old days when the king, judge, prophet or seer were understood to have been empowered by the Holy Spirit, in a way unlike others around them.[n] What's different here is that no-one has to miss out, it's totally up to our life choice to believe and accept the Creator and His Word …or, not.[v23-25]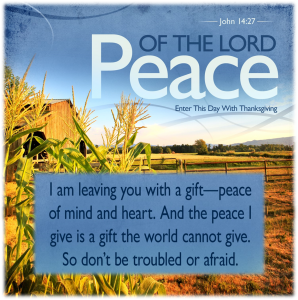 The chapter, and the evening meal on Jesus' last night alive, ends with a message of peace. If there's any "famous last words", it has to be that bad things will happen (the following 12hrs were utterly shocking for Jesus), BUT we don't have to be afraid because we're not alone. [v27] The Creator God is intimately aware of everything we see, hear, say, do and experience because, He's within us by His Holy Spirit. While many today will go to their graves saying that there can't possibly be a good God out there (because of all the rotten stuff that happens), Jesus died a most shocking death yet saying the exact opposite. [v31]
CLICK to return to today's "Daily Breadcrumbs"
[a] QuieTimes – A Complete Day-by-Day Guide to Personal Worship and Bible Study by Max E. Anders
[b] Isaiah 40:1
[c] Exodus 3:13-15
[d] Exodus 23:21b (See also Isaiah 9:6)
[e] Genesis 1:26-27
[f] Hebrews 1:3
[g] Genesis 18:1-5&16-33; Genesis 32:24-30
[h] Joshua 5:13-6:2
[i] Exodus 3:5
[j] Genesis 3:1
[k] Joel 2:28-29
[l] Genesis 2:18
[m] John 3:16
[n] Judges 3:10;6:34;11:29;14:6;15:14 and 1 Samuel 10:6;11:6;16:13f etc.