JOHN 8: WHO'S YOUR FATHER?
When our daughter went into convulsions and stopped breathing, the severity of her illness sunk in. It was the winter of 1990, and I had just experienced two miscarriages. Now, our only child, Akila, had been ill for four days and had gone downhill the night before. However, a late-night hospital visit hadn't revealed anything serious so, we were sent away.
By the following lunchtime, Akila went into convulsions and, in the ICU unit of an Amsterdam hospital, she was finally diagnosed with late-stage HiB meningitis. If our 17-month-old baby survived at all,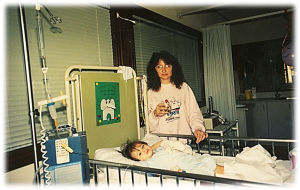 we were told that she had a high chance of brain damage. Akila spent the next ten days in a coma-like state, waking periodically but sleeping for the most part of every 24hrs. For the next month, Mark and I took alternate 12hr-shifts until she was finally discharged.
It was late one night, in that early stage when her life seemed to teeter on the brink of oblivion, that I remembered a song about Father God. Akila slept in an isolated cubical, and I drew the curtains around her while I sang the song over her. As I claimed her life over death, I seemed to gain strength from it and, as this happened, my voice must have risen enough for the nurses to hear as they sat at the nurse's station outside.
Because I couldn't tell how far my voice was travelling, I drew the curtains some more, in a bid to cover the gaze of the nurses in my direction. With my daughter's life at stake, this was the song – and the truth of the lyrics would either give us back our daughter, or send her onto her Father God…
When Jesus said, "I am the light of the world. Whoever follows me will never walk in darkness, but will have the light of life…" [v12], He was talking about light gained from God's Word: the "lamp for my feet, a light on my path".[a]  He's talking about inexplicable divine light that seems to hover above us in those horribly dark depths, encountered throughout human experience. If Jesus is the Living Word of God – as John says[b] – then of course it isn't unreasonable for Him to say: "…Whoever follows (the Creator God's Guidebook for Life) will never walk in darkness…"
With the Creator God as Father, in addition to being provider, guide, protector (and every other positive image associated with a 100% good father), He's also light for our path – leading His people to purpose, truth for our daily choices, and LIFE for a sustained future.[c] But if Jesus makes claims about Himself – how can we be sure it's true?
Once more, the Jews bring up the issue of needing two witnesses to make something fact. [v13-18] So Jesus calls upon Father God, who stands with Him, as His witness. The Word has much to say in judgement against us and

when the Word makes a judgement, it's just and true because the Word comes from Father God. [v16&26] If however, we leave Father God out of it for a minute, the written word in His epic storyline has plenty of hidden clues that testify to someone who has never come along even to this day – fitting all the descriptions – except Jesus!
All the while, the religious leaders were processing what it was that Jesus was saying, from a physical/earthly/human perspective. First they ask where His Father is. [v19] Then they think He's going to kill Himself. [v22] Finally, they think He's talking about been physical slaves. [v33] But Jesus continues to point beyond the natural life and the natural world, to a Heavenly Father – the issue of eternal life or death for our spirit, depending on the state we're in. Are we found living in spiritual freedom, or are we gripped with spiritual slavery to sin…
"I told you that you would die in your sins; if you do not believe the Word, you will indeed die in your sins"  …(not just physically but also spiritually)… However, "if you hold to my teaching, you are really my disciples. Then you will know the truth, and the truth will set you free." [v24,31&32]
The proof of this is in His own death – He led the way even in being first to die for the explicit reason of sin. [v28] The confirmation is in an everyday example: a slave has no permanent place in the family but a son belongs to it forever. [v35-36] We know all this, but most of us aren't connecting up all the dots. We need to give room to God's word. [v37] We need to give time to stop, think, and ask Father God to teach us like any good father would. Our lives depend on it!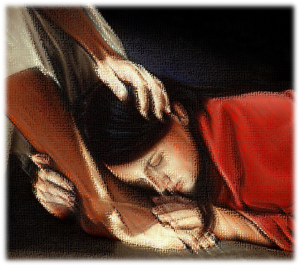 Well, things deteriorated from there and, in His language, Jesus got very strong with them. [v42-47] However, it's fair to say that Jesus only spoke roughly to those in leadership – those who held the books of righteousness in their hands and penned laws all day, but who didn't follow their own rules. To the common people, He spoke graciously, understanding that we don't know any better.
But one incredibly serious thing can be learnt from this passage – the existence and nature of satan. If we're to believe that there is a Creator God, and that He has a storyline that isn't fantasy, Greek mythology or fairy tales but a true record of history (HISstory), then we have to also believe in the existence of the devil and what his role is, in relation to the human image-bearers of Father God.
He was a murderer from the beginning, not holding to the truth, for there is no truth in him. When he lies, he speaks his native language, for he is a liar and the father of lies. [v44]
Shying away from believing that we have an enemy, is the first way to lose a war. In order to win over the problem, we need to know that there's a problem in the first place, where that problem is coming from, what side we're on, and who or what we're fighting.
When our daughter lay lifeless in the ICU of a foreign hospital, the problem was being fixed on a physical level by what the doctors were trying to do for her. But how could an untrained mother and housewife claim anything beyond that – claiming full and complete healing with no brain damage? How could this problem be address when a fully qualified Head of Paediatrics with 20+ years of experience, is claiming otherwise?
Jesus said, "If I am telling the truth, why don't you believe me? Whoever belongs to God hears what God says. The reason you do not hear is that you do not belong to God." [v46-47]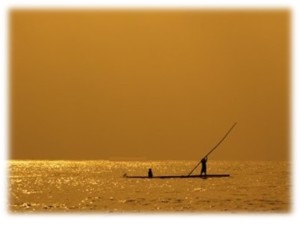 No matter how small or how "uneducated" I think I am when floating on the currents of this life, one thing is sure: the Creator God made Himself Father of all Living by creating us in His own image to be like Him. Since I'm "in", whether I like it or not, the only question left is: Do I want Him to be my Father or am I opting out?
Having furnished me with proof of my "sonship" by sending Jesus – His Word – Father God then raised Him from the dead. [v54] As it is, He is both Lord and Christ for me, and for you…
"For to us a child is born, to us a Son is given, and the government will be on His shoulders. And He will be called Wonderful Counsellor, Mighty God,

Everlasting Father

, Prince of Peace." [Isaiah 9:6]
CLICK to return to today's "Daily Breadcrumbs"
[a] Psalm 119:105
[b] John 1:14
[c] John 14:6