MARK 16 – Coping With Sudden Change
When our Michael passed away and no medical reason could be found, the storm was so ferocious that it sucked away ¹⁄₅ of our "normal". If our family was an island, a fifth of it just washed into the sea and the landscape was irreversibly changed from that time on. But we're considered to be the lucky ones. Our "island" stayed intact and, by God's grace, the remaining ⁴⁄₅ have sustained no lasting damage. Other families implode under the crushing weight of the unexpected. The cracks caused by the devastating force, eventually breaks their island in two.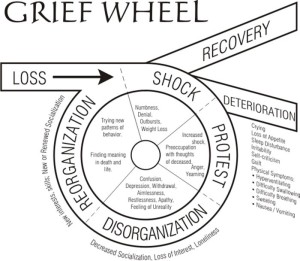 There are many theories out there for the shock of sudden change, grief and loss and I've found The Grief Wheel model most helpful. So with the psychology of coping with sudden change covered by others, by using today's chapter, I'd like to look at how faith in our Maker becomes both a propelling force and the healing balm, when the unexpected knocks us off our feet.
The women in today's story, were part of a people group who worshipped the God of the incredible. For one thing, He was the Creator God. So, to get passed the first chapter in His story, one has to believe in the God of the extraordinary. Although to adhered intellectually to this faith system included some of the most ridiculous events ever to be recorded, these ladies didn't seem to be expecting the unexpected. The script handed down to them testified time and again to the miracle of divine intervention in everyday life. But in their "hour of greatest need" the promises didn't seem to be a thing to expectantly wait for.
"Listen to my words, Lord, consider my lament. Hear my cry for help, my King and my God, for to You I pray. In the morning, Lord, You hear my voice; in the morning I lay my requests before You and wait expectantly. For You are not a God who is pleased with wickedness…The bloodthirsty and deceitful You, Lord, detest. But I, by Your great love, can come to You; in reverence I bow down to You. Lead me, Lord, in Your righteousness…make Your way straight before me….let all who take refuge in You be glad; let them ever sing for joy. Spread your protection over them, that those who love Your name may rejoice in You. Surely, Lord, You bless the righteous; You surround them with Your favour as with a shield." [King David's 5th Psalm]
That first Easter morning began similar, in many ways, to this morning. The birds were singing and the city was quiet as the sun rose above the horizon. Those who had been unexpectedly caught up in this epic saga, had HOPE. But for them, it was dashed hope and shattered dreams. So there's a difference between crying in desperation and waiting in expectation. One acknowledges that there is a God out there somewhere who's able to hear. The other acknowledges that He's already in control and involved, whether we can see what He's doing yet or not.
So while the women had no idea of the full extent of what they were believing in at the time, they set out in action and as it turns out, faith and action are linked.[a] But unbeknown to them, this sudden change would force them to embark upon a lifetime journey of FAITH – expecting the unexpected and believing the impossible…
"…without faith it's impossible to please God, because anyone who comes to Him must believe that He exists and that he rewards those who earnestly seek him…"[b]
So if I venture to believe that a Creator God exists at all and that He does have a plan to include me, then it's safe to say that in every crisis, His action plan will be complex and comprising a picture that's far bigger than what I'm looking at.
Focused on the immediate practical requirements as they approached the grave, the women in today's chapter happened to be followers of the God of History. But they didn't realise the history-changing implications that Father God had planned that day, when He so publically accepted Jesus' one perfect sacrifice…
"…faith is the substance (the confidence, the assurance) of things expected (hoped for) and conviction (evident assurance) of things not seen (what we do not currently see)."[c]
CLICK to return to today's "Daily Breadcrumbs"
[a] James 2:17
[b] Hebrews 11:6
[c] Hebrews 11:1