Dale Carnegie's book: How to Win Friends and Influence People[a]  has a great title. The idea is one of my life-long desires. Yet, in a single sentence, today's chapter shows us how…
READ COLOSSIANS 4   Make notes, if you'd like, of what stands out for you. Feel free to use the "Leave a Comment" box below to also write some of your thoughts.
A THOUGHT FOR TODAY:
Much of life is about interlocking puzzle pieces that, when placed at the centre, everything else fits into place. So, continuing on from yesterday's Breadcrumb[b], today's chapter reiterates again just how my inter-personal relationships stem from my relationship with their Maker. [v1]  If I understood their Maker – the One who made them (and me) to be like Him – I'd act like Him. But one overriding question in every generation has to be: How can I influence people?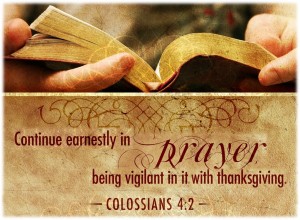 Paul, a 1st Century Jewish teacher, connects smooth running relationships with being "devoted to prayer". [v2] But "wrestling in prayer" [v12] isn't about complaining to Father God on every negative topic. It's prayer with thankfulness and it's the central puzzle piece for starting one's day.
Paul then goes a step further to give the golden key for how to win friends and influencing people, and it's all in the way I "prepare my speech"…
"Let your conversation be always full of grace, seasoned with salt, so that you may know how to answer everyone." [v6]
Read more? … CLICK to follow "31 October – Additional Notes"
But what about your thoughts – can you tell me what today's "breadcrumb" is? Leave a note in the "Comments" box below to tell me what you think of today's chapter.
Feeling disconnected with the One who made you to be like Him? The rest of this webpage uses Jesus' own prayer to help…[c]
THE LORD'S PRAYER:
   1.   Praise: "Our Father in Heaven, how great is Your name! Your Kingdom come! Your will be done on earth as it is in Heaven…"
Yours, O Lord, is the greatness and the power and the glory and the victory and the majesty, indeed everything that's in the heavens and the earth. Yours is the dominion, O Lord, and You exalt Yourself as head over all! [1 Chronicles 29:11]
   2.   Ask: "…Give us today our daily bread…"
The World: God's GRACE on South Africa[d]

Your Nation: God's Blessing on your country

Yourself: Boldness in Living for Christ

Your concerns for today

Hear my prayer, Father God, and give ear to my supplications. Answer me in Your faithfulness and in Your righteousness! [Psalm 143:1]
   3.   Admit: "…Forgive us our sins, as we forgive those who sin against us…"
Help me to be kind to others, Lord, …tender-hearted, forgiving others, just as You, in Christ, have also forgiven me. [Ephesians 4:32]
   4.   Protect: "…Lead us not into temptation but deliver us from the evil one…"
Soon this song will be sung: "We have a strong city; He sets up walls and ramparts for our security." [Isaiah 26:1]
" For Yours Lord is the Kingdom, the Power, and the Glory for ever and ever. Amen"
When questioned, tested, tricked or in His hour of great need, Jesus spoke what was previously written in God's Word.[e] So, the final section on this page is about memorizing the script through 10 topics. Following these will help you learn 52 portions from the bible in a year! THIS WEEK'S MEMORY VERSE: Topic = Spiritual LIFE
Jesus said: "I am the vine; you are the branches. If you remain in Me and I in you, you will bear much fruit; apart from Me you can do nothing. [John 15:5]
[a] http://www.amazon.co.uk/How-Win-Friends-Influence-People/dp/0091906814
[b] Colossians 3:18-4:1
[c] Matthew 6:5-15
[d] http://www.operationworld.org/country/sout/owtext.html
[e] Matthew 4:4,6,7,10; 11:10; 21:13; and 26:24,31