One thing I really don't like, is being the servant. I can keep up that role for a while, when it's reciprocated. After all, that's fair! But when there's no "come back" at all, that's when I get cross…
READ ROMANS 12  Make notes, if you'd like, of what stands out for you. Feel free to use the "Leave a Comment" box below to also write some of your thoughts.
A THOUGHT FOR TODAY:
When the culture around me doesn't feel like mutual team effort – whether that's within the home, office or community group – I hate being taken for granted. I hate being walked over. I hate being the one doing all the work. This may not be actual physical labour, it also includes the sense of "shouldering the load" in serving a one-sided relationship.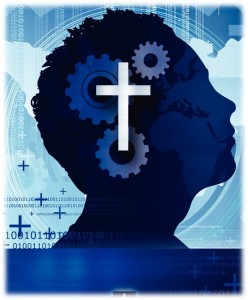 Today's chapter shows how a life dedicated to the service of others is "holy and pleasing" to our Maker [v1] – the One who created us in His likeness. So, when Jesus offered His body as a living sacrifice, He was continuing the work of Father God who has been ploughing unproductive ground in human hearts since The Beginning.[a] With blood, sweat and tears, His best efforts were crowned with thorns.[b] But it's only in view of my Creator's mercy (His side of the relationship), that inner transformation begins. Yet to be transformed by the renewal of my mind, I need to sacrifice the whole package of "ME". [v1-2]
Read More? …CLICK to follow "27 September – Additional Notes"
But what about your thoughts – can you tell me what today's "breadcrumb" is? Leave a note in the "Comments" box below to tell me what you think of today's chapter.
Finding it hard to connect with your Creator's Transformational Masterplan? The rest of this webpage uses Jesus' own prayer to help…[c]
THE LORD'S PRAYER:
Praise: "Our Father in Heaven, how great is Your name! Your Kingdom come! Your will be done on earth as it is in Heaven…"
I want to praise You Lord and sing to You a new song. May I praise You in the assembly of Your faithful people. [Psalm 149:1]
   2.   Ask: "…Give us today our daily bread…"
The World: Government decisions in Pakistan[d]

Your Nation: The homeless in your country

Yourself: Your extended family

Your concerns for today

Give attention to Your servant's prayer and my plea for mercy, O Lord my God. Hear and answer the cry and prayer that I'm praying in Your presence today. [2 Chronicles 6:19]
   3.   Admit: "…Forgive us our sins, as we forgive those who sin against us…"
Without You, Father God, I'll be destroyed from lack of knowledge. But because my actions show that I've rejected knowledge, have mercy (as one of Your godly-servants) and don't reject me. When I ignore Your laws, please don't in turn ignore my children. [Hosea 4:6]
   4.   Protect: "…Lead us not into temptation but deliver us from the evil one…"
Like birds hovering overhead, You Lord Almighty, will shield Your people. Thank-You that You'll shield the place where Your family lives, and will "pass over" it to deliver and rescue us. [Isaiah 31:5]
" For Yours Lord is the Kingdom, the Power, and the Glory for ever and ever. Amen"
When questioned, tested, tricked or in His hour of great need, Jesus spoke what was previously written in God's Word.[e] So, the final section on this page is about memorizing the script through 10 topics. Following these will help you learn 52 portions from the bible in a year! THIS WEEK'S MEMORY VERSE: Topic = A Good Caretaker
Jesus said: "No one can serve two masters. Either you will hate the one and love the other, or else you'll be devoted to the one and despise the other. You cannot serve both God and money." [Luke 16:13]
[a] Genesis 3:18-19
[b] Matthew 27:29
[c] Matthew 6:5-15
[d] http://www.operationworld.org/country/paki/owtext.html
[e] Matthew 4:4,6,7,10; 11:10; 21:13; and 26:24,31