If it's true that the number of days ordained for me, were written in my Maker's book before one of them came to be[a], then I'm invincible until "my number's up"…
READ EXODUS 2  Make notes, if you'd like, of what stands out for you. Feel free to use the "Leave a Comment" box below to also write some of your thoughts.
A THOUGHT FOR TODAY:
For Moses, it seemed impossible to escape genocide. If the babies escaped death at birth, they were soon caught and disposed of, during the weeks and months that followed. But Moses' days were determined by his Maker, and nothing on earth could change that. It wasn't luck that helped Moses escape genocide any more than my 18-year-old son's unexpected passing was an unlucky ending. I say this because nothing's an accident to the One who's writing HIStory.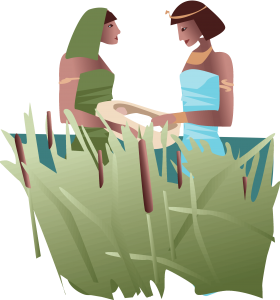 In addition, our Maker also knows why we're born – what His purpose is for us. Upon finding an abandoned baby in a basket, Pharaoh's daughter called him Moses, which means: draw out. "Because," she said, "I drew him out of the water." [v10] But the Creator's Plan, given to Abraham seven generations earlier, was to draw out a family for Himself.[b] It's little wonder then, that the playwright, producer and director to this epic saga would protect, then nurture, then eventually use "Draw-Out", for that specific task! …Read More? …CLICK on "27 January – Additional Notes"
But what about your thoughts – can you tell me what today's "breadcrumb" is? Leave a note in the "Comments" box below to tell me what you think of today's chapter.
Wanting to connect with the Author of your story? The rest of this webpage uses Jesus' own words to help…[c]
THE LORD'S PRAYER:
   1.   Praise: "Our Father in heaven, hallowed be Your Name. Your Kingdom come! Your will be done on earth as it is in heaven …"
With praise and thanksgiving may I sing to You, Lord, saying: "You are good; Your love toward me endures forever." [Ezra 3:11]
   2.   Ask: "…Give us today our daily bread…"
The World: Use the link to pray for Asia[d]

Your Country: Needs of the poor

Yourself: Greater spiritual insight

Your concerns for today

I called to You, Lord, for You are worthy of praise. In You, I'm saved from my enemy. [2 Samuel 22:4]
   3.   Admit: "…Forgive us our sin as we forgive those who sin against us…"
Help me not to judge things before the appointed time, Father God, but to wait until You come. You'll bring to light what's hidden in darkness, and expose the motives of the heart. At that time, I'll receive my praise from You. [1 Corinthians 4:5]
   4.   Protect: "…Lead us not into temptation but delivers us from evil."
Turn my eyes away from worthless things, Lord, and preserve my life according to Your Word. [Psalm 119:37]
"For Yours Lord is the Kingdom, the Power and the Glory now and forever. Amen!"
When questioned, tested, tricked or in His hour of great need, Jesus spoke what was previously written in God's Word.[e] So, the final section on this page is about memorizing the script through 10 topics. Following these will help you learn 52 portions from the bible in a year! THIS WEEK'S MEMORY VERSE: Topic = The Creator's Will
"Trust in the Lord with all your heart and lean not on your own understanding; in all your ways submit to him, and he will make your paths straight." [Proverbs 3:5-6]
[a] Psalm 139:16
[b] Genesis 15:13-16
[c] Matthew 6:5-15
[d] http://www.operationworld.org/region/asia/owtext.html
[e] Matthew 4:4,6,7,10; 11:10; 21:13; and 26:24,31