If you're wondering whether history repeats itself, today's chapter shows what happened in the past is now "a hook to hang our hat on" when trying to work out what's about to take place in our future…
READ REVELATION 15  Make notes, if you'd like, of what stands out for you. Feel free to use the "Leave a Comment" box below to also write some of your thoughts.
A THOUGHT FOR TODAY:
With Christmas now behind us and the past appropriately remembered, it's time to go back to work. But while we see a need to concentrate on the present, there's the natural instinct to look to our future. Yet it's almost impossible to look forward without looking back.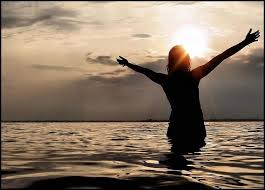 So when I read John's vision of the future in today's chapter, which includes countless people standing by a sea and singing the song of Moses [v2-3], I noticed how it held a striking resemblance with what happened in the past when the Nation of Israel stood by the Red Sea after they left Egypt in a mass exodus. As my mind lingered on the ancient storyline, I seemed to hover over their past and my future – the future that John foretells.
Like God's people in the ancient past, I'll be among those holding harps on the shoreline of the future that our Maker has planned for His people: "Great and marvellous are Your deeds, Lord God Almighty. Just and true are Your ways, King of the nations." [v3-4] …Read More? … CLICK to follow "27 December – Additional Notes"
But what about your thoughts – can you tell me what today's "breadcrumb" is? Leave a note in the "Comments" box below to tell me what you think of today's chapter.
Wanting to connect with your Maker? The rest of this chapter uses Jesus' own prayer to help[a]…
THE LORD'S PRAYER:
   1.   Praise: "Our Father in heaven, hallowed be Your Name. Your Kingdom come! Your will be done on earth as it is in heaven …"
Your glory covers the heavens and Your praise fills the earth, Lord God Almighty. Your splendour is like the sunrise; rays flashing from Your Hand where once Your power was hidden. [Habakkuk 3:3-4]
   2.   Ask: "…Give us today our daily bread…"
The World: Prayer Networks[b]

Your Country: The sick – those in hospital or care homes

Yourself: Boldness in living for God

Your concerns for today

Thank-you Father that all we have to do is: Ask and it will be given to us; seek and we'll find; knock and the door will be opened to us. [Luke 11:9]
   3.   Admit: "…Forgive us our sin as we forgive those who sin against us…"
Test my heart, Lord, so that You're pleased with my integrity. Help me to willingly give in to You and, with honest intent in all I do. [1 Chronicles 29:17]
   4.   Protect: "…Lead us not into temptation but deliver us from evil."
You make known to me the path of life, Lord God. You fill me with joy in Your presence and with eternal pleasures at Your right hand. [Psalm 16:11]
"For Yours Lord is the Kingdom, the Power and the Glory now and forever. Amen!"
When Jesus was questioned, tested, tricked or in His hour of great need, He always spoke things that were previously written in God's Word.[c] Following these memory verses from ten topics, will help you learn 52 verses from the bible in a year! THIS WEEK'S MEMORY VERSE: Topic = The Creator God's Salvation Plan
"…for ALL have sinned and fall short of the glory of God…" [Romans 3:23]
[a] Matthew 6:5-15
[b] The faithful continuation of those involved in local prayer networks or those who have been established to pray for global issues. Pray also for more people to join and develop existing prayer groups.
[c] Matthew 4:4,6,7,10; 11:10; 21:13; and 26:24,31