For anyone who's got a complaint against the apparent inactivity of Creator God, while our newspapers overflow with horror stories, today's chapter is a recommended read…
READ HABAKKUK 3  Make notes, if you'd like, of what stands out for you. Feel free to use the "Leave a Comment" box below to also write some of your thoughts.
A THOUGHT FOR TODAY:
I don't seem to have time to read the newspaper, but horrific headlines seem to catch my eye every time I leave the house. So, although his vision is written more than 26 centuries ago, the ancient prophet Habakkuk lived in similar circumstances to any one of us today. His small book found its place in the world's No. 1 bestseller and his complaint remains on the lips of every thinking person today. Habakkuk was fighting with faith in the Creator God who seemed too patient to be Just!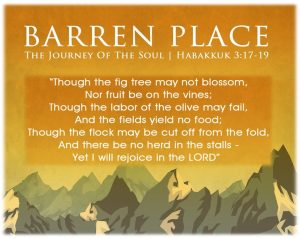 Like those who've heard of the Creator's fame – His mighty interventions in ancient times – Habakkuk pleaded with his Maker to act once more. [v2] But from the way the Creator responds to Habakkuk (in chapters one and two), fighting to understanding one's faith is ok. What's important is that, even when there's nothing left to be thankful for, Habakkuk didn't lose hope, or his faith. He chose instead to watch, trust and pray.
Read More? CLICK to follow "27 August – Additional Notes"
But what about your thoughts – can you tell me what today's "breadcrumb" is? Leave a note in the "Comments" box below to tell me what you think of today's chapter.
Wanting to speak directly with the God who both sees and hears? The rest of this webpage uses Jesus' own prayer to help…[a]
THE LORD'S PRAYER:
   1.   Praise: "Our Father in heaven, hallowed be Your Name. Your Kingdom come! Your will be done on earth as it is in heaven …"
I want to praise Your Name, Father God, for ever and ever because wisdom and power are Yours. [Daniel 2:20]
   2.   Ask: "…Give us today our daily bread…"
The World: The people of Mauritania[b]

Your Country's response to world hunger

Yourself: reaching out to your neighbours

Your concerns for today

Whatever I need today from You, Lord, I know that Your message of Eternal Life is simple: that we can know You, the only true God, and Jesus Christ, whom You have sent. [John 17:3]
   3.   Admit: "…Forgive us our sin as we forgive those who sin against us…"
Thank-you Lord, that You have blessed the one whose transgressions are forgiven – the one whose sins are covered. [Psalm 32:1]
   4.   Protect: "…Lead us not into temptation but delivers us from evil."
You hold success in store for the upright, Father God, and You're a shield to those whose way of life is blameless. [Proverbs 2:7]
"For Yours Lord is the Kingdom, the Power and the Glory now and forever. Amen!"
When questioned, tested, tricked or in His hour of great need, Jesus spoke what was previously written in God's Word.[c] So, the final section on this page is about memorizing the script through 10 topics. Following these will help you learn 52 portions from the bible in a year!  THIS WEEK'S MEMORY VERSE: Prayer
"Be anxious for nothing, but in everything, by prayer and petition, with thanksgiving, present your requests to God." [Philippians 4:6]
[a] Matthew 6:5-15
[b] http://www.operationworld.org/country/maua/owtext.html
[c] Matthew 4:4,6,7,10; 11:10; 21:13; and 26:24,31