If you ever wondered what mileage there is in bothering at all with prayer, today's chapter contains an incredible link connecting us with our Maker on an ongoing, 24/7 basis, and it's due to a 2,000-year-old prayer…
READ JOHN 17  Make notes, if you'd like, of what stands out for you. Feel free to use the "Leave a Comment" box below to also write some of your thoughts.
A THOUGHT FOR TODAY:
Over the past 35 years, I've travelled to more than 80 countries and seen prayer and worship of various gods in a variety of ways. But I wonder if anyone's done an audit on whether prayer works, and which gods are answering? From as young as 10, I've been praying specifically to the Creator God and I've found that He can indeed see and does indeed hear. What's even more incredible, is that Jesus prayed for me 2,000 years ago!
Although, in today's chapter, Jesus prayed this prayer on a night when He'd be completely abandoned – e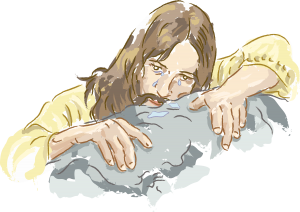 ven by those He just prayed for – His prayer takes an interesting turn. After praying for Himself [v1-5] and for those He loved at the time [v6-19], He then included any generation, any nationality, any background, any one. [v20-26] Regardless now of what happens to us, or how unexpected our life-story turns out here on earth, it's the greatest prayer ever prayed for YOU and it's spoken by the one who made it possible:
"My prayer is not for them alone. I pray also for those who will believe in Me through their message, that all of them may be one, Father, just as You are in Me and I am in You. May they also be in Us…" [v20-21a]
Read More? …CLICK on "26 April – Additional Notes"
But what about your thoughts – can you tell me what today's "breadcrumb" is? Leave a note in the "Comments" box below to tell me what you think of today's chapter.
Wanting to speak directly with the One who cares most? The rest of this webpage uses Jesus' own prayer to help…[a]
THE LORD'S PRAYER: 
   1.   Praise: "Our Father in heaven, hallowed be Your Name. Your Kingdom come! Your will be done on earth as it is in heaven …"
My heart rejoices in You, Lord! In You my strength is lifted high. My mouth boasts over my enemies, for I delight in Your deliverance. There's no one holy like You, Lord! There's no one besides You – no Rock like my God. [1 Samuel 2:1-2]
   2.   Ask: "…Give us today our daily bread…"
The World: God's Grace on the Comoros Islands[b]

Your Country: Ministries within the Military

Yourself: Spiritual Insight

Your concerns for today

Thank-You Lord that You're near to all who call on You, to all who call on You in truth. You fulfil the desires of those who fear You. You hear my cry and You save me. [Psalm 145:18-19]
   3.   Admit: "…Forgive us our sin as we forgive those who sin against us…"
As I go about my daily choices, Father God, help me to remember Your guidelines because, anyone who competes as an athlete doesn't receive the victor's crown except by competing according to the rules. [2 Timothy 2:5]
   4.   Protect: "…Lead us not into temptation but delivers us from evil."
You've swept away my offenses like a cloud, O God, my sins have gone like the morning mist. Now I'll return to You, Lord, for You've redeemed me. [Isaiah 44:22]
"For Yours Lord is the Kingdom, the Power and the Glory now and forever. Amen!"
When Jesus was questioned, tested, tricked or in His hour of great need, He always spoke things that were previously written in God's Word.[c] Following these memory verses from ten topics, will help you learn 52 verses from the bible in a year! THIS WEEK'S MEMORY VERSE: An Assured Future
"Therefore, there is now no condemnation for those who are in Christ Jesus. Through Christ Jesus the law of the Spirit who gives life, has set us free from the law of sin and death. [Romans 8:1-2]
[a] Matthew 6:5-15
[b] http://www.operationworld.org/country/como/owtext.html
[c] Matthew 4:4,6,7,10; 11:10; 21:13; and 26:24,31