With extensive information on any topic, readily available through a simple google search, I'm not sure if we've advanced much since the 1st Century AD – we're still struggling to "discern what's best"…
READ PHILIPPIANS 1  Make notes, if you'd like, of what stands out for you. Feel free to use the "Leave a Comment" box below to also write some of your thoughts.
A THOUGHT FOR TODAY:
During five decades, and after visiting 80+ countries, I've managed to gain some information …about myself. For one thing, my Maker hasn't "sticky-taped" my life together with bits of old stuff from the past. He hasn't put me together, or reassembled me, like a motley patchwork of Band-Aids in every hidden corner. The key to knowledge and key to insight for discerning what's best, seems to begin with taking on board my Maker's LOVE…
"…And this is my prayer: that your love may abound more and more in knowledge and depth of insight, so that you may be able to discern what is best and may be pure and blameless for the day of Christ…" [v9,10]
So then, what stood out for me in today's chapter, were words like "being confident" [v6]; "eagerly expect" [v20]; "stand firm" [v27];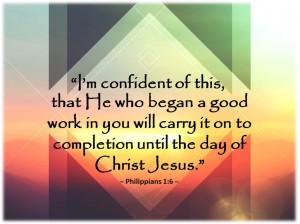 and "without being frightened". [v28] If I gain, and maintain, a growing knowledge and depth of insight into my Creator God – who doesn't give up, doesn't need to keep improvising, and doesn't bodge His design plans – I'll have in my hand the key to knowledge for knowing what's best – not just for myself, but for those I influence.
Read more? … CLICK to follow "24 October – Additional Notes"
But what about your thoughts – can you tell me what today's "breadcrumb" is? Leave a note in the "Comments" box below to tell me what you think of today's chapter.
Wanting to connect with your omniscient (all-knowing) Maker? The rest of the webpage uses Jesus' own prayer to help…[a]
THE LORD'S PRAYER:
   1.   Praise: "Our Father in Heaven, how great is Your name! Your Kingdom come! Your will be done on earth as it is in Heaven…"
Your splendour is like the sunrise, Lord God; rays flash from Your hand! Where is Your power hidden? [Habakkuk 3:4]
   2.   Ask: "…Give us today our daily bread…"
The World: Pray for God's GRACE on Sierra Leone[b]

Your Nation: "Para-church" ministries

Yourself: Renewal of your mind[c]

Your concerns for today

This will be a sign and witness of You, Lord Almighty, in the land of my slavery: when I cry out to You because of my oppression, You'll send me a saviour and defender, and You'll rescue me. [Isaiah 19:20]
   3.   Admit: "…Forgive us our sins, as we forgive those who sin against us…"
Father God, thank-you that Christ who died—more than that, who was raised to life—is now at Your right hand and is also interceding for me. Who then can condemn me before Him? No one. [Romans 8:34]
   4.   Protect: "…Lead us not into temptation but deliver us from the evil one…"
Help and save me, Lord, gather me from the nations so that I may give thanks to Your Holy Name and glory in Your praise. [Psalm 106:47]
" For Yours Lord is the Kingdom, the Power, and the Glory for ever and ever. Amen"
When questioned, tested, tricked or in His hour of great need, Jesus spoke what was previously written in God's Word.[d] So, the final section on this page is about memorizing the script through 10 topics. Following these will help you learn 52 portions from the bible in a year! THIS WEEK'S MEMORY VERSE: Topic = Spiritual LIFE
Jesus said, "Remain in Me, as I also remain in you. No branch can bear fruit by itself; it must remain in the vine. Neither can you bear fruit unless you remain in Me." [John 15:4]
[a] Matthew 6:5-15
[b] http://www.operationworld.org/country/sier/owtext.html
[c] Romans 12:2
[d] Matthew 4:4,6,7,10; 11:10; 21:13; and 26:24,31