If you've wondered whether there's a divine power at all interested in humanity, today's chapter shows just how connected we are, as human image-bearers, with the Creator of the Universe…
READ JOHN 15  Make notes, if you'd like, of what stands out for you. Feel free to use the "Leave a Comment" box below to also write some of your thoughts.
A THOUGHT FOR TODAY:
When I was young, I used to help my Mum in a vineyard in Australia during my school holidays. As the branches grew so long that they'd trail on the ground, our job was to tuck up the vine branches onto their support wire. If we didn't keep the branches up off the ground, they fruit would rot in the rain and dirt. The grapes had to hang naturally in the air to grow properly.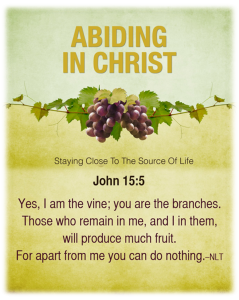 I mustn't have been very good at helping because I seem to remember taking shelter from the warm sun under the nearest vine, whenever possible. But as I read today's chapter, I felt somehow "enlightened".  Knowing now that, weaving trailing branches is only a fraction of the care and attention given to a grape vine, and what a good vine can produce over many years, amazes me. Amazing still is that Jesus would call me a branch on His "great" vine, which is personally cared for by Creator of the Universe! [v5-8]
So now, when life seem to be one painful "pruning" after another – such that I'm left wondering if God exists or cares at all – I won't give up on Him too quickly. It may be that I'm in the perfect place. I'm on His vine, under His watchful eye as He prunes and waits in expectant hope, of what I can produce.…
Read More? …CLICK on "24 April – Additional Notes"
But what about your thoughts – can you tell me what today's "breadcrumb" is? Leave a note in the "Comments" box below to tell me what you think of today's chapter.
Wanting to speak directly with the Owner of the Vineyard?[a] The rest of this webpage uses Jesus' own prayer to help…[b]
THE LORD'S PRAYER: 
   1.   Praise: "Our Father in heaven, hallowed be Your Name. Your Kingdom come! Your will be done on earth as it is in heaven …"
My mouth will speak in praise of You, Lord! Let every creature praise Your Holy Name for ever and ever! [Psalm 145:21]
   2.   Ask: "…Give us today our daily bread…"
The World: Government decisions in Colombia[c]

Your Country: Labourer's for God's Harvest field[d]

Yourself: Sensitivity to Sin

Your concerns for today

As for the foreigner who doesn't belong to Your people, O God, but has come from a distant land because of Your Great Name and Your Mighty Hand and Your outstretched Arm—when they come and pray, hear from heaven, Your dwelling place. Do whatever the foreigner asks of You, so that all the peoples of the earth may know Your Name and fear You, as do Your own people. [2 Chronicles 6:32-33]
   3.   Admit: "…Forgive us our sin as we forgive those who sin against us…"
Jesus said: "Anyone who loves me will obey my teaching. My Father will love them, and we will come to them and make our home with them. Anyone who does not love me will not obey my teaching…"  [John 14:23-24a]
   4.   Protect: "…Lead us not into temptation but delivers us from evil."
I know and I've heard, Father God, that You're the everlasting God, the Creator of the ends of the earth. You'll not grow tired or weary, and Your understanding no one can fathom. You give strength to the weary and increase the power of the weak. [Isaiah 40:28-29]
"For Yours Lord is the Kingdom, the Power and the Glory now and forever. Amen!"
When Jesus was questioned, tested, tricked or in His hour of great need, He always spoke things that were previously written in God's Word.[e] Following these memory verses from ten topics, will help you learn 52 verses from the bible in a year! THIS WEEK'S MEMORY VERSE: An Assured Future
"Therefore, there is now no condemnation for those who are in Christ Jesus. Through Christ Jesus the law of the Spirit who gives life, has set us free from the law of sin and death. [Romans 8:1-2]
[a] Matthew 20:1-16 & 21:33-44
[b] Matthew 6:5-15
[c] http://www.operationworld.org/node/152
[d] Matthew 9:38
[e] Matthew 4:4,6,7,10; 11:10; 21:13; and 26:24,31