If you put life's events down to pure chance or coincidence, today's story shows how something that appears to be random, can actually be strategic, bringing about life-altering change…
READ 1 SAMUEL 9  Make notes, if you'd like, of what stands out for you. Feel free to use the "Leave a Comment" box below to also write some of your thoughts.
A THOUGHT FOR TODAY:
Many of the events in our own lives can seem like random acts of fate and, it'll take a certain form of Faith to continue to believe this to be true. If we're at all willing to give life a closer look, however, these events – that may have no evident significance at the time – are almost certainly part of a tapestry that our Maker is using to orchestrate His purposes for us.
It's hard to believe, for example, that the story in today's chapter – which took place more than three millenniums ago –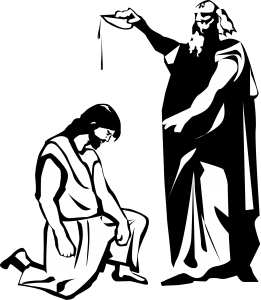 could wind up in the hands of a 21st Century housewife simply as a result of a random act of fate. Even harder to believe that a guy looking for donkeys could wind up becoming the first king of the world's most scrutinized nation. [v15-16] To have faith in fate requires a greater level of blind trust than believing in a God with a plan. The Creator God has had a plan from the moment He said "Let there be Light".[a] And, like any great script writer, that plan has been a gradually unfolding revelation in HIStory from the beginning. Read More? …CLICK on "23 May – Additional Notes"
But what about your thoughts – can you tell me what today's "breadcrumb" is? Leave a note in the "Comments" box below to tell me what you think of today's chapter.
Wanting to connect with your All-Knowing (Omniscient) Creator? The rest of this webpage uses Jesus' own prayer to help…[b]
THE LORD'S PRAYER:
   1.   Praise: "Our Father in heaven, hallowed be Your Name. Your Kingdom come! Your will be done on earth as it is in heaven …"
I praise You, Lord! I'll praise You in Your sanctuary and I'll praise You in Your mighty heavens! I Praise You for Your acts of power; and I praise You for Your surpassing greatness. [Psalm 150:1-2]
   2.   Ask: "…Give us today our daily bread…"
The World: Pray for the Republic of Finland[c]

Your Country: God's will in National/World affairs

Yourself: Boldness in Living for God

Your concerns for today

I want to honour You, Father God, with my wealth, with the first-fruits of all that I produce. Then my "barns" will be filled to overflowing, and my "vats will brim over with new wine". [Proverbs 3:9-10]
   3.   Admit: "…Forgive us our sin as we forgive those who sin against us…"
Give ear, my God, and hear; open Your eyes and see the desolation that I've caused myself. I don't make requests of You because I'm righteous, but because of Your great mercy. Lord, listen! Lord, forgive! Lord, hear and act! For Your sake, my God, don't delay, because I'm one who bears Your Name. [Daniel 9:18-19]
   4.   Protect: "…Lead us not into temptation but delivers us from evil."
Help me, O God, not to store up for myself treasures on earth, where moths and vermin destroy, and where thieves break in and steal. I want to store up for myself treasures with You in heaven, where moths and vermin do not destroy, and where thieves do not break in and steal. [Matthew 6:19-20]
 "For Yours Lord is the Kingdom, the Power and the Glory now and forever. Amen!"
When Jesus was questioned, tested, tricked or in His hour of great need, He always spoke things that were previously written in God's Word.[d] Following these memory verses from ten topics, will help you learn 52 verses from the bible in a year!  THIS WEEK'S MEMORY VERSE: Using our Gifting
"Therefore, as we have opportunity, let us do good to all people, especially to those who belong to the family of believers." [Galatians 6:10]
[a] Genesis 1:3
[b] Matthew 6:5-15
[c] http://www.operationworld.org/country/finl/owtext.html
[d] Matthew 4:4,6,7,10; 11:10; 21:13; and 26:24,31