With a myriad of Faith variants today (such that someone once described churches as having one LIFE message but wrapped in different sweet wrappers), it's difficult to spot which are safe and which to avoid…
READ EPHESIANS 4   Make notes, if you'd like, of what stands out for you. Feel free to use the "Leave a Comment" box below to also write some of your thoughts.
A THOUGHT FOR TODAY: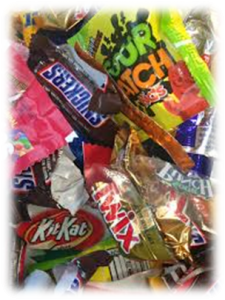 The older I get, the more I like the idea of Eternal LIFE. But where to start; what to believe; and where to turn, is quite another matter! In a clever way, the Creator God created, through HIStory, a complex multi-faceted masterpiece in a stained-glass window effect. It's to show the world His creative power and what His LIFE can look like, inside His sweet-wrappers. To begin, He made it clear that there's…
"…one body and one Spirit, just as also you were called in one hope of your calling; one Lord, one faith, one baptism, and one God and Father of all who is over all and through all and in all." [v4-6]
After establishing clear boundaries so that we can recognise the source of all Faith (along with right and wrong teaching), He uses the "but" word… "BUT to each one of us, GRACE has been given to the measure of Christ's gift." [v7] So, after uniting the nations (in yesterday's Breadcrumb), our Creator God begins handing out His GRACE (God's Riches At Christ's Expense) as it comes in varying forms. [v11-13] The result: His LIFE in sweet-wrappers, that's now on display for all the world to see…
Read more? … CLICK to follow "21 October – Additional Notes"
But what about your thoughts – can you tell me what today's "breadcrumb" is? Leave a note in the "Comments" box below to tell me what you think of today's chapter.
Finding it hard to speak to the God and Father of Us All? The rest of this webpage uses Jesus' own prayer to help…[a]
THE LORD'S PRAYER:
   1.   Praise: "Our Father in Heaven, how great is Your name! Your Kingdom come! Your will be done on earth as it is in Heaven…"
Lord, the God of Israel, enthroned between the cherubim, You alone are God over all the kingdoms of the earth. You've made heaven and earth! [2 Kings 19:15]
   2.   Ask: "…Give us today our daily bread…"
The World: Pray for God's Grace on Senegal[b]

Your Nation: Prison ministries in your country

Yourself:  Faithfulness with your talents[c]

Your concerns for today

Hear my prayer, Lord God Almighty; please listen to me, God of Jacob. [Psalm 84:8]
   3.   Admit: "…Forgive us our sins, as we forgive those who sin against us…"
As I go about my daily choices, help me not to judge anything before the appointed time, Father God. When You come, You'll bring to light what's hidden in darkness and will expose the motives of the heart. At that time each will receive their praise from You. [1 Corinthians 4:5]
   4.   Protect: "…Lead us not into temptation but deliver us from the evil one…"
If You are pleased with me, Lord, teach me Your ways so I may know You and continue to find favour with You. [Exodus 33:13]
" For Yours Lord is the Kingdom, the Power, and the Glory for ever and ever. Amen!"
When questioned, tested, tricked or in His hour of great need, Jesus spoke what was previously written in God's Word.[d] So, the final section on this page is about memorizing the script through 10 topics. Following these will help you learn 52 portions from the bible in a year! THIS WEEK'S MEMORY VERSE: Topic = Spiritual LIFE
"Remain in me, as I also remain in you. No branch can bear fruit by itself; it must remain in the vine. Neither can you bear fruit unless you remain in me." [John 15:4]
[a] Matthew 6:5-15
[b] http://www.operationworld.org/country/sene/owtext.html
[c] Matthew 25:14-30
[d] Matthew 4:4,6,7,10; 11:10; 21:13; and 26:24,31