When there's no light at the end of your tunnel, today's chapter shows how, in what looks like a "bizarre twist of fate", a slave and prisoner became second in command of the greatest civilization on earth – and all in a single morning…
READ GENESIS 41  Make notes, if you'd like, of what stands out for you. Feel free to use the "Leave a Comment" box below to also write some of your thoughts.
A THOUGHT FOR TODAY:
I don't possess the level of faith required to believe that sheer fate, or random luck, could make an imprisoned slave become ruler over the most sophisticated civilization in the ancient world – especially when both Hebrews and shepherds were detestable to Egyptians.[a] The more I read the script, however, the more I see the impossibility of random fate, and the probability (and indeed high likelihood) of an Author, Director and Producer behind every line in the script of LIFE.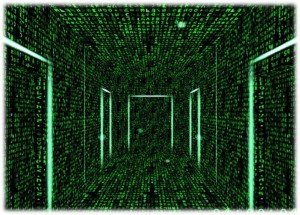 When it comes to understanding divine intervention in human experience, I notice two things in today's chapter: (i) only the Creator can be God and my job is to just show up. When I'm faithful to what He brings my way, the results are up to Him; and (ii) when I step through the doors, into the matrix that overlays history with HIStory, I'm able see that my Maker not only has a plan, He's got a good, pleasing and perfect Will.[b] With that said, the Creator's Global MasterPlan reveals another clue, in today's chapter, in a matrix that will make Him "twice fruitful"…in us!     Read More?… CLICK on "21 January – Additional Notes"
But what about your thoughts – can you tell me what today's "breadcrumb" is? Leave a note in the "Comments" box below to tell me what you think of today's chapter.
Wanting to speak freely with the One behind the script? The rest of this webpage uses Jesus' own prayer to help…[c]
THE LORD'S PRAYER:
   1.   Praise: "Our Father in heaven, hallowed be Your Name. Your Kingdom come! Your will be done on earth as it is in heaven …"
You've begun to show me Your greatness and Your strong Hand, Lord God; for what god is there in heaven or on earth who can do such works and mighty acts as Yours? [Deuteronomy 3:24]
   2.   Ask: "…Give us today our daily bread…"
The World: Pray for the Americas-Caribbean[d]

Your Country's response to the needs in Africa

Yourself: Opportunities to serve God

Your concerns for today

Thank-you Lord that, although the gifts the wicked are an outrage to You, but the prayer of the upright is Your delight. [Proverbs 15:8]
   3.   Admit: "…Forgive us our sin as we forgive those who sin against us…"
You, Father God, have demonstrated Your own love toward me, in that while I was still a sinner, Christ died for me. [Romans 5:8]
   4.   Protect: "…Lead us not into temptation but delivers us from evil."
Your word, Lord, is a lamp to my feet and a light to my path. [Psalm 119:105]
"For Yours Lord is the Kingdom, the Power and the Glory now and forever. Amen!"
When questioned, tested, tricked or in His hour of great need, Jesus spoke what was previously written in God's Word.[e] So, the final section on this page is about memorizing the script through 10 topics. Following these will help you learn 52 portions from the bible in a year! THIS WEEK'S MEMORY VERSE: Topic = The Creator God's Salvation Plan
"But as many as received Him (Jesus), to them He gave the right to become children of God, even to those who believe in His name." [John 1:12]
[a] Genesis 43:32 and 46:34
[b] Romans 12:2
[c] Matthew 6:5-15
[d] http://www.operationworld.org/caribbean
[e] Matthew 4:4,6,7,10; 11:10; 21:13; and 26:24,31