It's likely that there's no-one in history, who has managed to divide the planet in two, just by being themselves. Today, the 2000-year-old debate continues over Jesus' identity…
READ MARK 8  Make notes, if you'd like, of what stands out for you. Feel free to use the "Leave a Comment" box below to also write some of your thoughts.
A THOUGHT FOR TODAY:
Throughout history we've seen religious leaders and miracle workers appear and disappear from the stage. Most people will focus on their ability and popularity. Their real identity seems incidental – especially when they emphasise their religious title, or go by a "stage name".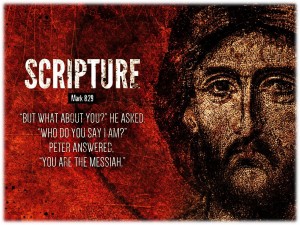 By miraculously feeding in excess of 4,000 people with a few loaves of bread, this 1st Century Jewish carpenter called Yeshua (translated "Jesus") begins to reveal His true identity. [v27-30]  If we can get our head around who Jesus really is, we'll understand why He came. The miracles, no matter how spectacular, are only markers that link Him to who He really is.[a]
Read More? CLICK on "20 March – Additional Notes"
But what about your thoughts – can you tell me what today's "breadcrumb" is? Leave a note in the "Comments" box below to tell me what you think of today's chapter.
Wondering what to say to the God of Miracles? The rest of this webpage uses the prayer that Jesus taught us to pray.[b]
THE LORD'S PRAYER:
   1.   Praise: "Our Father in heaven, hallowed be Your Name. Your Kingdom come! Your will be done on earth as it is in heaven …"
Hear this you kings, and listen, you rulers! I, even I, will sing to the Lord; I'll praise the Lord, the God of the Universe, in song! [Judges 5:3]
   2.   Ask: "…Give us today our daily bread…"
The World: Pray for Bulgaria[c]

Your Country: Needs of the poor

Yourself: Concern for the lost[d]

Your concerns for today

You heard my plea, Father God. Now don't close Your ears to my cry for relief. [Lamentations 3:56]
   3.   Admit: "…Forgive us our sin as we forgive those who sin against us…"
The prayer offered in faith will make me well for You, O God, will raise me up. If I've sinned, I'll be forgiven. Because the prayer of a righteous person is powerful and effective, I'll confess my sins and pray with others so that I'll be healed. [James 5:15-16]
   4.   Protect: "…Lead us not into temptation but delivers us from evil."
You're a refuge for the oppressed, O Lord, my stronghold in times of trouble. If I know Your Name and trust in You, You'll not forsake those who seek You. [Psalm 9:9-10]
"For Yours Lord is the Kingdom, the Power and the Glory now and forever. Amen!"
When Jesus was questioned, tested, tricked or in His hour of great need, He always spoke things that were previously written in God's Word.[e] Following these memory verses from ten topics, will help you learn 52 verses from the bible in a year! THIS WEEK'S MEMORY VERSE: Sharing the Creator God's Good News
Jesus said: "…go and make disciples of all nations, baptizing them in the name of the Father and of the Son and of the Holy Spirit…" [Matthew 28:19]
[a] Luke 4:14-21
[b] Matthew 6:5-15
[c] http://www.operationworld.org/country/bulg/owtext.html
[d] Luke 19:10
[e] Matthew 4:4,6,7,10; 11:10; 21:13; and 26:24,31