Today's chapter makes a distinction between being a good imitator or a good imitation…
READ 3 JOHN  Make notes, if you'd like, of what stands out for you. Feel free to use the "Leave a Comment" box below to also write some of your thoughts
A THOUGHT FOR TODAY: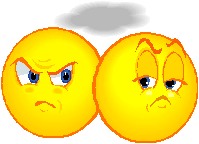 Like all parents who enjoy peace when their children finally go to bed, I've wondered if the Creator built sleep into our design as His chance to get "time out" from us. Problem is, God's got a 24/7 clock! While half the planet's asleep, the other half is awake and there's never a moment's peace for Him! The stress of juggling a myriad of prayer requests, and a torrent of accusations day after day, can be imagined after reading this third letter written by John.
Out of the three people that John had on his mind, two were good imitators who took on board the pattern or culture of God's people. [v5,6,8&11]. They were well spoken of, because they had a true testimony. [v12] However, the third person seemed to be a great imitation. He appeared to have it all together and met regularly with Believers – apparently holding a position of being first in the group. [v9] But he's a "position grabber" who speaks maliciously on the side, then avoids people like John who are able to expose his behaviour and correct him. [v10]
With everything that Father God has on His plate today, I want to be a good imitator, not a good imitation. I want to be part of the solution not part of the problem. I want to be healthy inside (in my heart where it counts) as well as outside [v1] so that I'll bring my Maker great joy to hear that another one of His children is walking in truth. [v4]
Read More? … CLICK to follow "20 December – Additional Notes"
But what about your thoughts – can you tell me what today's "breadcrumb" is? Leave a note in the "Comments" box below to tell me what you think of today's chapter.
Wondering how to talk to your Creator? The rest of this webpage uses Jesus' own prayer to help.[a]
THE LORD'S PRAYER:
   1.   Praise: "Our Father in heaven, hallowed be Your Name. Your Kingdom come! Your will be done on earth as it is in heaven …"
I want to sing to You, Lord, with grateful praise and make music to my God on stringed instruments. [Psalm 147:7]
   2.   Ask: "…Give us today our daily bread…"
Your Country: The pornographic industry

Yourself: Your own spiritual growth

Your concerns for today

Jesus said: "No one can serve two masters. Either you will hate the one and love the other, or else you will be devoted to the one and despise the other. You cannot serve both God and money." [Luke 16:13]
   3.   Admit: "…Forgive us our sin as we forgive those who sin against us…"
Lord, I want to pray to You as Daniel did, confessing my sin and the sin of my nation, and making my request to You, the Lord my God, for Your holy hill. [Daniel 9:20]
   4.   Protect: "…Lead us not into temptation but delivers us from evil."
Father God, help me to always remember that Your thoughts are not my thoughts, neither are my ways Your ways. As far as the heavens are above the earth, so are Your ways higher than our ways and Your thoughts higher than our thoughts. [Isaiah 55:8-9]
"For Yours Lord is the Kingdom, the Power and the Glory now and forever. Amen!"
When Jesus was questioned, tested, tricked or in His hour of great need, He always spoke things that were previously written in God's Word.[d] Following these memory verses from ten topics, will help you learn 52 verses from the bible in a year! THIS WEEK'S MEMORY VERSE: Topic = Spiritual Conflict
"Pray in the Spirit on all occasions with all kinds of prayers and requests. With this in mind, be alert and always keep on praying for all the Lord's people." [Ephesians 6:18]
[a] Matthew 6:5-15
[b] http://www.operationworld.org/country/virg/owtext.html
[c] http://www.operationworld.org/country/wall/owtext.html
[d] Matthew 4:4,6,7,10; 11:10; 21:13; and 26:24,31