With so many people today enslaved with debt, how freeing the feeling must be when chains come off, hearts set free, but where on earth can debt be written off freely and indiscriminately?
READ LUKE 7  Make notes, if you'd like, of what stands out for you. Feel free to use the "Leave a Comment" box below to also write some of your thoughts.
A THOUGHT FOR TODAY:
Most of us like stories about a terminally ill person being suddenly and miraculously healed of their illness. [v1-10]  How many people have lost terminally ill loved ones, and could do with news of a power so great that not only fortunes are restored but LIFE restored before the grave! [v11-17] As incredible as all these things are, there's another story in today's chapter and, with it, comes irreversible change within a human soul.
Unlike other miraculous wonders that were plain to see and easily verified,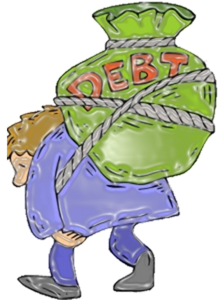 it's the story about writing off debt that captures my attention today. [v36-50] While the Creator God's grace is indiscriminate and free for all, the result (zero for sin on each one's account) isn't equal.[a]  Some are forgiven little, and some are forgiven much. [v47] Those who show that they love God more (as this woman showed in today's chapter), have a fuller understanding of just how much their debt is. Amazingly, when we're willing to unpack, and take a good look at, how much we owe our Maker to begin with, we can then see (perhaps for the first time) the size of His grace freely given indiscriminately and personally to us. Read More… CLICK on "11 March – Additional Notes"
But what about your thoughts – can you tell me what today's "breadcrumb" is? Leave a note in the "Comments" box below to tell me what you think of today's chapter.
Wanting to speak directly with the One in charge of GRACE? The rest of this webpage uses Jesus' own prayer to help…[b]
THE LORD'S PRAYER:
   1.   Praise: "Our Father in heaven, hallowed be Your Name. Your Kingdom come! Your will be done on earth as it is in heaven …"
I'll praise You, Lord, along with all Your heavenly hosts and Your servants, who do Your will. Praise the Lord, all His works – everywhere in His dominion! Yes – praise God O my Soul! [Psalm 103:21-22]
   2.   Ask: "…Give us today our daily bread…"
The World: God's Grace on Bolivia[c]

Your Country: Issues related to Night Club Culture

Yourself: Sensitivity to Sin

Your concerns for today

You've guided me always, Lord. You'll satisfy my needs in a sun-scorched land and You'll strengthen my frame. Because of You, I'll be like a well-watered garden, like a spring whose waters never fail. [Isaiah 58:11]
   3.   Admit: "…Forgive us our sin as we forgive those who sin against us…"
As for You, Father God, Your way is perfect. Your Word is flawless and You shield all who take refuge in You. [2 Samuel 22:31]
   4.   Protect: "…Lead us not into temptation but delivers us from evil."
Thank-you Lord, that I have a secure future in You in that: whoever acknowledges the Son has the Father also. Help me to remember that no one who denies the Son has the Father.  [1 John 2:23]
"For Yours Lord is the Kingdom, the Power and the Glory now and forever. Amen!"
When Jesus was questioned, tested, tricked or in His hour of great need, He always spoke things that were previously written in God's Word.[d] Following these memory verses from ten topics, will help you learn 52 verses from the bible in a year! THIS WEEK'S MEMORY VERSE: Topic = Sharing the Creator God's Good News
Jesus said: "Go into all the world and preach the gospel to all creation." [Mark 16:15]
[a] Matthew 20:1-16
[b] Matthew 6:5-15
[c] http://www.operationworld.org/country/boli/owtext.html
[d] Matthew 4:4,6,7,10; 11:10; 21:13; and 26:24,31